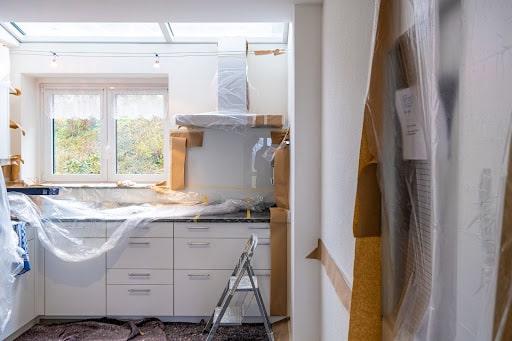 How to Complete Your Dream Renovation with a Busy Schedule
Is your busy schedule getting in the way of accomplishing your renovation goals? Here are some tips to help you get through your home improvement renovation when on a tight schedule. 
Plan During Your Days Off
There is no better time than your days off of work to get in a clear mindset to plan for your renovation. Start by taking out your calendar and creating a timeline for your renovation. Below is a general timeline for different home renovation projects: 
Full House Demolition: 2 weeks

HVAC, Electrical and Plumbing: 5 days

Framing and Drywall: 10 days

Painting: 1 week

Cabinets and Fixtures: 1 week

Doors and Windows: 5 days

Clean House and Air Vents: 1 day

Flooring: 1 week

Trim and Finish Work: 1 week
With these in mind, grab your calendar or planner and block out specific times you could get each project done. Keep in mind these projects can overlap with each other. Consult a contractor with specific timeline questions for your project scope. 
You may be short on time, but it's best not to rush the planning period. Go at your own pace and take advantage of your free time to thoughtfully plan your renovation. 
Make a To-Do List 
When it comes to renovating with an already busy schedule, creating a step-by-step to-do list can come in handy. Here are the typical planning steps that are taken when undergoing a renovation: 
Make a project plan by assessing what you'd like to renovate 

Set a budget

Hire out a contractor, or figure out your own contracting plan

Consult your insurance company

Solidify needed permits

Order materials

Complete renovation projects
From here you can break down each of these categories into specific task lists. For example, when breaking down materials, make a list of what you need to buy. Some examples could include purchasing blue painter's tape for wall painting and floor protection film to protect against dust and debris. After putting your list together, go through it by checking off each item one by one. Doing this will show your accomplishments on paper, giving you the motivation to keep your project moving along.
Shop Hard Floor Protection Film Shop Carpet Protection Film
Hire a Contractor
This project does not have to be done all on your own. When hiring out, start by creating a plan and researching different trusted contractors in your area to find one who can work with your schedule and desired needs. 
Take advantage of your close, trusted sources. One of the best ways to find a contractor in your area is through word of mouth. One of your neighbors, family members, or friends is likely to have used or know someone who has used a contractor recently. References can narrow down your search process, saving the time you need back in your day. 
The internet is another great source for finding a contractor. Choose a couple of positively reviewed contractors to get in touch with so you can compare quotes and ultimately determine which contractor would work best for your needs. This process may take a little more time, but doing it right on the front end will save you time in the long run.
Take Advantage of a Virtual Work Environment
The COVID-19 pandemic has caused many businesses to alter their in-office policy, allowing many employees to work from home.  If you fall into the remote working group, this could be to your advantage while trying to complete your home renovation. 
When living in your renovation space, you may be able to step in during your workday breaks to make sure all is going smoothly. This can benefit your project process as you will have the ability to be more hands-on with contractors and quickly address any questions or concerns. 
Nervous about renovation noise when working from home? Make sure your contractor knows you are working from home so demolition times can be adjusted around your employment schedule. In addition, using a daily headset for work calls will help reduce the background noise heard during meetings. Try noise-canceling headphones or light headphone noises (such as soft music) to keep you focused on your daily tasks. With these tips, you and your renovation will benefit from the current virtual work environment.
Use the Night-Shift
Working a typical "9 to 5" job is no problem when it comes to home remodeling. HGTV recently interviewed a couple who remodeled their home after their long work hours. Working until 6 PM every day, Catherine and Nick Balding spent their evenings cranking out their dream renovation. Within seven months, the couple was able to transform their small 1950's home into a modern four-bedroom space. 
This story proves that you can accomplish a renovation even with a full schedule. Prioritizing your renovation will be important during this process, and you will likely have to replace some of your favorite nighttime hobbies for a couple of months in order to get the job done. Even though you may be missing out on exercising or craft creating, accomplishing a home project may be the best replacement. While burning calories and being creative to get the work done, you may be altering your current hobby passions to renovating. 
It is also important to prioritize yourself during this process. Make sure to take days off to focus on yourself and your mental health. Renovating can be stressful and time-consuming, take a step back to check in with your mental and physical health throughout the process. 
Involve Your Loved Ones 
Grab your partner, family members, close friends, and other loved ones who would be willing to offer a helping hand. 
When it comes to the renovation process itself, your close circle may be willing to jump in to help with projects themselves. Jobs such as planning and researching can be completed much more quickly if you have other people willing to help. Especially when it comes to finding a contractor, having multiple trusted opinions can speed up your contractor selection process. In addition, when you are making design decisions such as choosing painting colors, getting a second opinion can be helpful in the decision-making process. 
Another benefit to having a loved one plan with you is that they can oversee your renovation scene with the same background knowledge as you. If you have to be out and about throughout the day, having a trusted source keep an eye on the renovation may help ease your worries. 
When it comes to the renovation itself, your loved ones may get excited to get their hands a bit dirty. Simple projects like painting and cleaning can create bonding experiences for the whole project team while creating less stress on your end. 
We hope these tips have instilled confidence and energy in you to get your home renovation projects done. Stop using your busy schedule as an excuse… go out and fulfill your renovation dreams!