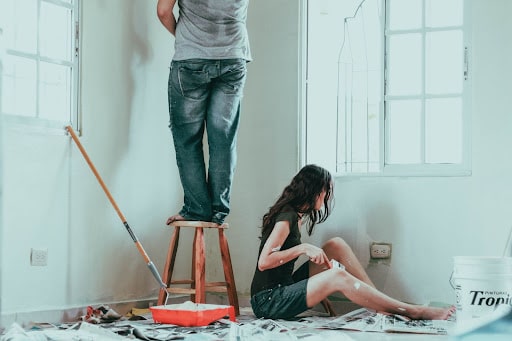 Top 2022 Painting Trends You Should Implement Into Your Home
Looking around your house, you may realize that some of your walls need a fresh coat of paint to change up your house's aesthetic. These top 2022 home painting trends can give you some creative ideas on how to get started on updating your space. 
Soft and Neutral Color Palettes
You may be stuck trying to find the best interior paint color to update your space. The good news is the current trend of soft and neutral colors offers a wide range of palettes to choose from, and HGTV experts have predicted that calm colors that can connect your home aspects cohesively together will be on the rise over the next couple of years. Optimistic neutral colors fall right into this category, having the ability to match just about any other color scheme already in place. 
The neutral color scheme is much broader than you may think. Mixed neutral colors are on the rise, going beyond just black, white, gray, beige, and brown. Household name brands have started mixing neutral undertones with soft colors such as navy, maroon, and olive. These same popular companies are marketing these colors similar to neutrals as they are also easily pairable with other color schemes. 
Benjamin Moore announced that their color of the year is Aegean Teal, a soft blue-green color that holds gray undertones. With this comforting gray undertone, the color is easily able to mesh well with other palette hues falling right into the current trend. 
Two-Tone Walls
You may have hopped on the bright accent wall trend that was on the rise a couple of years ago. If you are ready to change up the wall or paint a new accent wall, this two-tone wall trend will work perfectly for you. 
After finding your wall, it is time to choose your two pairing colors. This is where you can put your own creative spin on it, choosing bright or toned-down color schemes. We suggest spending some extra time mixing and matching to make sure your desired room is portrayed perfectly. 
To get started on the painting process, use our blue painter's tape to divide your wall into two separate spaces. Even though most trendsetters have chosen to divide their colors horizontally, it is up to you if you would like to divide vertically or diagonally instead. 
Once the tape is laid out, start with your first color section. After you have completed painting on your first color, reapply your tape at the end of the freshly painted section. Paint your second chosen color on the other wall side. Once dry, peel off your painter's tape to reveal your new house statement. 
If you are looking to add a twist to your space, this slick two-toned wall trend would be a great addition to your home. 
Geometric Accent Wall
Bright modern home designs have continued to emerge over the past decade. This contemporary full wall design is taking over Pinterest and blogs as one of the top home designs of 2022. The painted design is made by creating a collage of sharp geographic shapes which are separated with the use of painter's tape lines. Each section holds a specific color creating a radiant new look for your home. The great thing about this design is that painting amateurs and professionals alike can paint this design with ease.
Similar to the two-toned wall design, start by choosing a color scheme to match the desired room's overall look. Since there may be multiple hues on your wall, we suggest choosing around three to four different colors. After your colors are chosen, it is time to get started. Use TapeManBlue blue painter's tape to measure and create shape lines on your chosen wall. After that is laid out, fill in each shape with your chosen shades. Once dried, peel off the painter's tape to reveal the abstract design. 
This easy DIY trend is great if you are looking to add a contemporary flair to your space. 
Painted Arches 
One of the newest design trends is painting arches onto your walls with a contrasting color. These arches fit shelving, decor, and other paintings which create an individualized home look. 
This look can be done freehand or with the help of painter's tape. To start the process, measure out your arches to make sure they are even and fit well in your space. If you decide to use painter's tape, we suggest cutting the tape into small pieces and layering them onto each other to make the arch shape as smooth as possible. 
This trend combines a 70's flare with a present-day style, allowing your home to have a fresh update while fitting with the past decade's looks. 
White on White Color Scheme
If you are looking to make your space look as clean-cut as possible, this might be the trend for you. Some of the biggest celebrities are matching white ceilings, walls, and trimmings together in their homes. Rachel Ray, Jennifer Lawrence, Daniel Radcliffe, and many others have been some of the white-on-white trendsetters. All of these celebrities mix up their furniture and flooring color schemes differently, adding individualized flair to their respective homes. 
As white can mesh with just about any other color, partaking in this trend will give you the creative freedom to choose a prospective modern aesthetic. For example, Rachel Ray uses her white walls to fulfill her "beach vibe" household look. With this, she used ocean blue and sand color tones in her furniture, floors, and decor. Her household look shows that almost any style can be paired with this new-age, all-white flair. 
Since this project may require a full room painting makeover, we suggest using our protectant products to ensure your floors look untouched post-project. TapeManBlue's hard floor, carpet, and countertop protection films can help you achieve this white look without the worry of ruining your non-painted surfaces. 
Shop Counter Protection Film Shop Hard Floor Protection Film
We hope these trendy 2022 painting ideas get your creative wheels turning as you are exploring how to tackle your next painting project. TapeManBlue's protective films and painter's tape are here to help you achieve success in all of your painting endeavors.