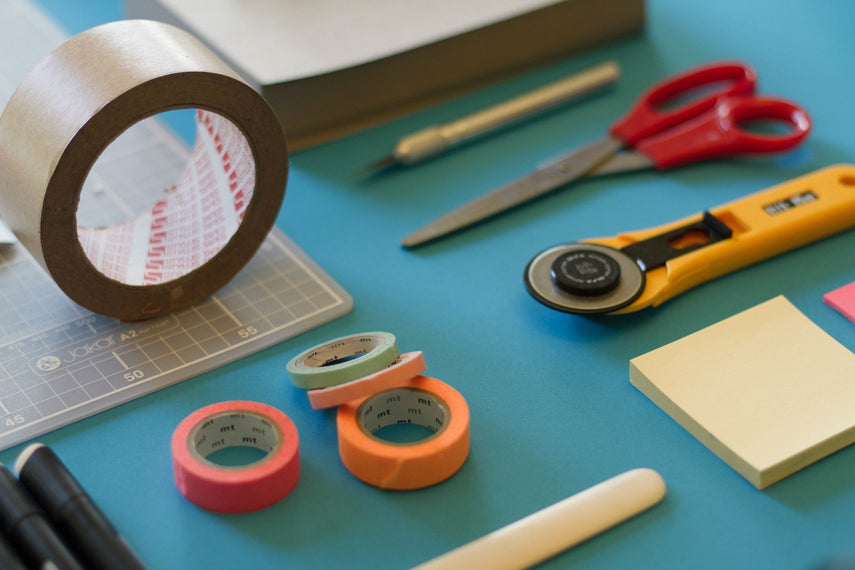 Cricut Blades: The Ultimate Guide for Every Machine 
If you're doing crafts or DIY projects at home, you're in excellent company. As of 2016, 63% of American households had participated in a crafting activity or hobby in the past 12 months. Doing projects with a Cricut, for instance, is increasingly popular. When you're creating crafts and projects like T-shirts or decals on a Cricut machine, you can score and cut materials like paper and vinyl using a variety of different blades.
The extensive selection of Cricut blades sometimes leaves crafters and DIYers with more questions than answers. What blade do you use to cut cardstock on Cricut? Which Cricut blade is best for vinyl? And what blades come with the Cricut Explore Air 2? We've created a Cricut cutting blade guide below to help inform your decisions. 
Cricut Blade Guide by Machine
The Cricut comes in a few different models — from the straightforward, compact Cricut Joy, to the versatile Explore models, to the comprehensive, feature-rich Cricut Maker. Let's talk about the Cricut blade types that come with each primary type of Cricut machine: 
Cricut Joy
The Cricut Joy comes with a small, all-purpose blade that suits its compact shape. Many Cricut beginners start with the Cricut Joy because it is easy to use and works well on various projects, so an all-purpose blade is essential for introducing users to what the Cricut can do. The Cricut Joy's blade works on materials including cardstock, iron-on backing, paper, poster board, vinyl, and all Cricut materials, including insert cards, transfer sheets and smart materials. It is suitable for use only in Cricut Joy models. 
Cricut Explore One, Explore Air and Explore Air 2
The Cricut Explore models can use several fine-point Cricut blades for different projects and purposes. They also use the scoring stylus for scoring. Below are a few of these blades and how they work:
1. Premium Fine-Point Blade
The gold-colored, premium fine-point blade is ideal for making highly intricate cuts in thin and lightweight or medium-weight materials. It is manufactured from German carbide steel, and it can handle a variety of project materials, including cardstock, iron-on backing, paper, poster board, vinyl and other thin and lightweight or medium-weight materials. This blade is compatible with both the Cricut Explore line and the Cricut Maker. 
2. Deep-Point Blade
The black deep-point blade is also a fine-point blade. It differs from the premium blade because of the steepness of its angle. Cricut's premium fine-point blade slices at a 45-degree angle, and the deep-point blade makes cuts at a 60-degree angle. The deep-point blade is also made from harder, heavy-duty steel. The steepness and durability of this blade make it useful for thicker materials, including cardboard, chipboard, some fabrics, foam, magnets, stamp material, stiffened felt and thick cardstock. This blade is compatible with both the Cricut Explore line and the Cricut Maker. 
3. Bonded-Fabric Blade
The bonded-fabric blade is useful for projects that require cutting fabric — particularly reinforced, bonded fabric or fabric with an ironable backing. Using a fabric cutter for other materials can dull the blade, so having a separate blade only for fabric extends the life span of the blade and keeps it sharp and precise. The pastel pink hue — which matches the Cricut FabricGrip mat — shows you immediately which blade is the fabric-designated one. This blade is compatible with both the Cricut Explore line and the Cricut Maker. 
4. Scoring Stylus
The scoring stylus for use with the Explore and Maker line of machines is useful for scoring materials to make fold lines for projects like cards and envelopes. The Cricut can hold the scoring stylus and a blade simultaneously, so you can score and cut in one fluid step. 
Cricut Maker
What Cricut Maker blades are included with this machine? In addition to the scoring stylus, premium fine-point blade, deep-point blade and bonded-fabric blade discussed above, the Cricut Maker is also compatible with several other blade styles that make it an extremely versatile and capable cutting machine.
1. Rotary Blade
The Maker's spinning rotary blade is ideal for cutting materials with extreme precision. It moves easily in all directions to make it simple to craft any number of customized shapes. It also cuts easily without requiring a backing material, though it does require the use of the dense, durable FabricGrip mat. It is ideal for use with softer materials like cork, fabrics and tissue paper.
2. Knife Blade
The knife blade wields superior deep cutting ability, so it is ideal for cutting thicker, stronger materials like balsa wood, chipboard, leather and mat board. Its adjustable star wheels also mean you can move the wheels out of the way with thicker materials to prevent unwanted marks. 
3. QuickSwap Tools
The QuickSwap tools fit into the QuickSwap housing. They change places at the touch of a button, so you can perform a variety of finishing work quickly and easily. The Cricut's suite of QuickSwap tools includes the following:
Perforation blade
Engraving tip
Debossing tip
Scoring wheel and double wheel
Wavy blade
These tools make it convenient to add texture and detail to your projects, engrave names or phrases, create perforations for tear-out elements and include fun wavy edges to products like gift tags for style and flair.
When Should You Replace Your Cricut Blade?
If you're wondering when and how to replace your Cricut blade, keep an eye open for a few signs. You'll notice if your blade starts to deteriorate — perhaps it won't cut all the way through your materials, or it will begin to tear them. If that happens, you'll want to order a new blade right away and swap out the old blade for your new one. Be sure to use the blade-changing cap to protect your fingers as you work.
Types of Blades to Use for Different Projects 
Your choice of Cricut blade will depend on two factors: the type of Cricut machine you have and the type of project you're working on. If you're working on a project with specific material requirements, you'll want to choose the blades that can best handle the work: 
Fabric projects: Use the bonded-fabric blade for fabric with a stiff backing or the rotary blade for softer fabrics. 
Greeting or holiday cards: You can use the basic or premium fine-point blade to cut the paper, and you'll want the stylus to create folds for the cards and envelopes. 
Jewelry or dog tags: For these projects, you'll likely want the knife blade to cut through aluminum sheets and the engraving tip to add names and personal information.
Vinyl graphics or decals: For thinner vinyl, the fine-point blade may work well, and with thicker vinyl, you can choose the deep-point blade.
Wooden models: To create your own wooden airplanes, ships, animal figures or other wooden designs, choose the knife blade to slice through wood easily. 
Enhance Your Projects With Cricut Transfer Tape From TapeManBlue
When using your Cricut for vinyl products, you'll also need clear transfer tape to remove the vinyl pieces from the vinyl liner and transfer them to your project. To ensure excellent quality and keep your costs reasonable, use TapeManBlue transfer tape. It moves your vinyl easily without sticking or marking the pieces, and you'll see beautiful, durable results in your end products. You can buy TapeManBlue Cricut transfer tape on our website or on Amazon. 
Shop now on either site, or contact us today to learn more.