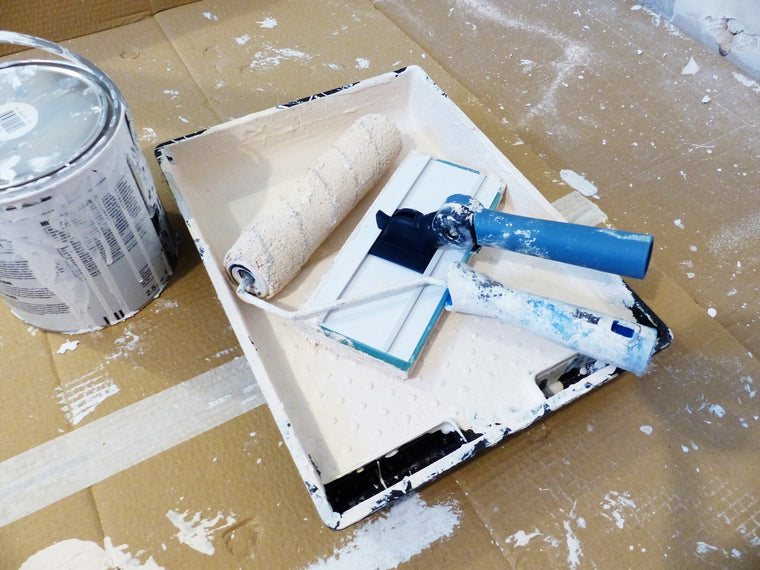 10 Effective Tactics to Market Your Painting Business
Implementing effective marketing techniques is key to any successful business. A business cannot function without marketing, and a professional painting business is no exception. If a painting company does not successfully market their business, they will not have any houses to paint! Are you looking to reach more painting customers for your business?


Gone are the days of painting companies depending on door-to-door marketing, cold calls, and referrals to reach customers. While these staples of the painting business are still very important, they are not the only way to grow your customer base. Tactics like this require a lot of time and work, and they can be very hit or miss. Here are ten game-changing tools for you to attract more customers to your painting business.
Physical Tools
1. Lawn Signs
This cheap and simple tactic is a great way to spread brand awareness to a large area. Putting up company signs at busy intersections or in neighborhoods with a large potential customer base can send interested people to your business. Just be sure to ask permission if you are putting it on private property. Information on these signs can include the company name and phone number, a logo, and any sort of sale that your company is running.
Not only should they include all of the relevant information to direct them to your company, but they should also be eye-catching. If they are weatherproof signs, they can last a long time; meaning you should put considerable effort into the design of the signs. If you feel like you aren't equipped to
design the signage
, consider contracting out a professional designer to make your signs the best on the block.
2. Truck Graphics
Having a truck graphic that provides your company name and contact information can engage with people that pass by while you are painting. Someone who is in need of painting will see your company at work in their neighborhood and have your company on their mind. With this marketing strategy, you are marketing while you work! Just like with the lawn signs, company information, an eye-catching logo, and a memorable slogan should all be included on the truck graphic.
It should all be easily digestible. Most likely, people seeing this advertisement will be passing by quickly, so they should be able to understand all of the information in a very brief amount of time. This way, whether you are driving around town or parked in a driveway, anyone who happens to see your truck will know the services you offer and what number to call for more information.
3. Flyers
Much like lawn signs, flyers are a cheap and easy way to achieve brand awareness in a targeted local area. Whether it is putting them up in places with heavy foot traffic or placing them in mailboxes, they can direct people who may need your painting services to your company. Optimal times to do this would be in the early spring when people are beginning to think about repainting their home exteriors or when you are running some sort of special sale or discount. As stated with the previous ideas, design and information on these flyers should be well planned, not haphazardly thrown together.
In addition to planning out the design and layout of the flyers, you should also have purpose behind where you spread them. If you are trying to grow the reach of your business, distribute the flyers in places that you have not had any jobs yet. If you are looking to capitalize on business in an area where you have worked previously and will receive good referrals, spread the flyers in those areas!

Digital Tools
4. Professional Website
The first and most important step your company should take online is creating a professional, accessible website. A site that is easy to navigate and runs well is the most powerful marketing tool you have online. Once you have a strong website in place, you can begin sending interested people there to learn more about your company.
The layout of your website should be intuitive and professional, but should also be appealing to the eyes of the users. The site should include an about us page, a contact page, a photo gallery showcasing your work, a section for reviews from past customers, and some sort of call to action, or CTA.
A good CTA will prompt the user to take the next step towards doing business with you. This can look many different ways. Maybe it is a form that users can fill out to get a free estimate for a potential job. Maybe it is a subscription to your mailing list so they can continue to receive information about your company and potential discounts.
With a website, the old adage "a picture is worth a thousand words" rings true. People who visit your site will want to see the types of projects and quality of work that you have done in the past. Using low-resolution photos of your past projects will not do your work justice. Providing users with high quality, relevant pictures will give the viewers a better look at what your company is capable of doing.
5. SEO
Search engine optimization, or SEO, is a simple but effective way to organically increase the likelihood of your website appearing on the first page of a Google search. Choosing relevant headings and popular keywords can do wonders for your page. Additionally, using the geo-targeting and scheduling features of Google Local Service Ads can help you narrow in people in your own community. Here are some more tips to optimize your pages.
Title Tags and Meta Descriptions are the text that appear for a site during a google search. The title tags act as the headers, while the meta descriptions are the sections of text underneath that describe the content of the page. Choosing a creative, enticing title and accompanying it with an accurate description of the page is a great way to get people to click on your site. Just make sure the text fits within Google's character limit!
Alt-text is the text that appears on a page when a picture does not load. However, high-quality alt-text also increases the SEO of a website. Taking the time to write up accurate descriptions of all the photos on your site will help your pages rise in search results organically.
Researching relevant keywords to include in your website's content is another great way to increase organic results. There are many free programs that allow you to see what keywords are turning up in searches. Using these keywords as headers and in content can boost your site's optimization.
Lastly, producing content regularly to keep your site from becoming outdated is an important aspect of SEO. Websites that have not been updated in a long time will not show up as high as those that are consistently creating more relevant content. That can look like blog articles, eBooks, videos, or any number of informative addition to the website.
6. Landing Pages
If you want to take your SEO a step further, create custom landing pages that will appear as ads at the top of Google searches. These pages should contain a call to action on them that allows the visitor to connect with your company either by subscribing to a mailing list or receiving some sort of promo code. Think of landing pages in the same way that you think of flyers and signs; they need to convey all of the necessary information in a brief space with an end goal of creating leads for future business.
As stated earlier, the CTA will guide the user to take the next step towards doing business with you. It is critical that you offer something for people who visit the landing page. If they click on a landing page link that is clearly just an ad, they will likely click away. Having people join a mailing list, download an eBook, or apply for a free estimate are all great ways to generate connections.
The last thing to consider is the layout of your landing page. A clean, simple layout with prominent text and several pictures is a great way to set up a landing page. Think about how you want to portray your company, as this could be the first contact that people have with you.
7. Facebook Ads
Another effective place that your company can run advertisements is on Facebook. Many adults now use Facebook for much more than social media, including shopping for goods and services. Targeted Facebook ads can key in on users who would potentially be interested in painting services. These ads are also helpful because, like the Google LSAs, you can focus on the local community. If you have a Facebook page that responds quickly to messages and has high ranking reviews from customers, you can use that page to run ads on Facebook.
Targeting an audience based on a certain demographic, geographic location, or user history is a helpful way to key in on certain potential audiences. Preferably you would select an ad target radius that is nearby where you paint, towards an age demographic of adults and homeowners. To go even further, you can target people who have shown an interest in having painting done.
8. Directories
Large internet directories are extremely helpful resources for people who are looking for a specific type of company. Meeting the requirements to get your company featured on one of these directories can make your business appear more trustworthy and professional due to the credentials needed to be included in the directory. This can act as a sort of professional reference that people can find you through or that you can reference as a way to show potential customers that you operate in a professional manner. Look for these directories on Google, LinkedIn, Indeed, or any other job sharing site!
If you are able to get your company listed on a painting directory, be sure to meet all of their guidelines and provide updated information about your company like phone number, email address, website URL, and area of operation.
9. Google My Business
Google My Business is an organizational tool that Google provides for free to help businesses manage many aspects of their web presence. There are three main uses that you can get with Google My Business: managing your information, interacting with customers, and expanding your online presence.
Managing your information is simple and easy. This tool allows you to see what information appears when people search for your business on Google. This includes products, services, locations, websites, operating hours, and much more! Having a solid understanding of what pops up when people seek out your business is necessary because having accurate, helpful information upfront can help your company generate more business through the Google platform. Once you know what is appearing when people search for your site, you can then manage it to put your best foot forward.
Interacting with customers is an important aspect of any company's online presence. With Google My Business, you can receive and post customer reviews and upload pictures of your location and the work that you do. Both of these interactions are essential because they help build trust with potential customers. Photos of the business provide them more peace of mind as they begin to better understand what kind of company you have and what kind of work you do. Reviews give unbiased, trustworthy insights from the people you've worked with previously. This gives potential customers a picture of what it would look like to do business with your painting company.
Expanding your online presence is the ultimate goal of marketing online. Google My Business can show you statistics on how your customers found you, how they searched to find you, where they are from, and much more! Once you know which aspects of your business profile are effective and which are not, you can dedicate more resources to the marketing strategies that are producing greater ROI for your business. You can even track campaign success to gain even further knowledge about your online presence.
10. Referral Program
While it is stated above that depending on referrals is an unreliable way to reach new customers, there are ways that you as a business can influence the odds of past customers referring you to new customers. By setting up an incentivized referral program, you can encourage your satisfied customers to spread the word about your company.
How these programs work is that once you finish a job for a customer, you inform them that if they are able to successfully refer someone to do business with your company, you will give them something in return. You can offer them a discount on their next paint job, free content like a downloadable eBook, or even a reasonable amount of money! Whatever you offer them in return, it has to be something that will make them want to tell their friends about your business. If you get in a position where people are providing several referrals, you can offer a rewards plan. For example, for every X amount of referrals, you offer them half off of their next painting project. Be creative with it, and you will find that this is a great way to not only expand your customer base but also create more loyal customers. 

Final Thoughts

In order to reach new customers, you have to understand them. It is necessary for you to try and see your company through the eyes of the consumers. If you are creating a website, think carefully about the things you would look for on a professional painting service's website. If you are creating flyers, think about what images or discounts would catch your attention. When researching keywords, think about what you would type into a search bar. Putting thought and care into each step of your marketing strategy is important because it doesn't matter how great of a painting job your company can do if no one is convinced to hire you.

On the flip side of the coin, there are marketing techniques that will spread knowledge of your company for all of the wrong reasons. Think about the types of advertisements that annoy you and be sure not to use any of those. Pop up ads, loud videos, flyers posted on public property, etc. are all great ways to annoy a potential customer base. No matter what aspect of marketing your painting business you are working on, remember to present your company in a professional and endearing way. Use these ten tools to create a loyal customer base that loves doing business with you!