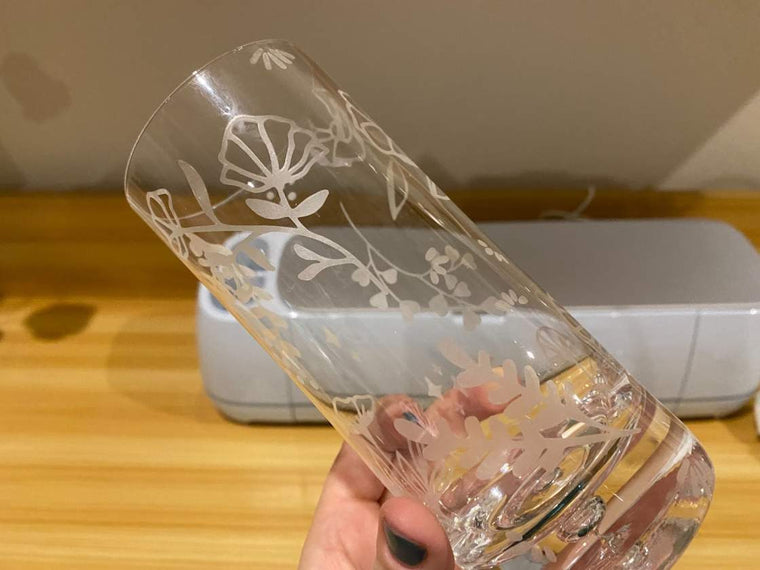 How to Etch Glass Designs with Your Cricut
Cricut and other at home craft machines are capable of so many great projects. One easy, versatile craft to try is glass etching. Glass etching is a long-lasting alternative to applying vinyl to cups or mugs. This is because the process actually removes the surface of the glass, making it an irreversible change that can go through the dishwasher or any other type of wear. Unlike vinyl decal applications, which can peel off over time, glass etching will last on the surface forever.
To start this project, we need a few materials:
Your glass project blank 
Armour Etch Glass Etching Cream 

You can find this at your local craft store such as Michael's or Hobby Lobby
Or, try online retailers like Amazon

Craft sponge or brush
Removable adhesive vinyl (any color)
Scissors
Weeding tool
Squeegee
Alcohol wipes, Windex, or other cleaning agent
Step 1. Creating the Design
Creating the design for a glass etching project can vary in difficulty depending on your project blank. If you're adding a family name to the bottom of a baking dish, the design process will likely be no different than other projects you've created. However, if you're doing a more advanced project like the full wrap around glass design shown in today's tutorial, you might want to check out the following tips and tricks.
First, consider the size of your glass. I'm using a flat glass that measures 6" tall and 8" around. To first create my design, I used an artboard in Adobe Illustrator with those measurements. However, if you don't have a Creative Cloud subscription, you can very easily design your glass in whatever program you use or in Cricut Design Space itself. Here is my design:
Botanical glass design
In this botanical design, I used a few tricks that I recommend when doing wrap around designs. For example, I have many little elements such as dots and stars between my larger elements which in this case are flowers and vines. These small elements help keep the design balanced. More importantly, if this was a wine glass or curved glass surface, I would want to place my elements individually on the curved surface instead of wrapping the vinyl as one large stencil. I would place my large elements first around the glass as evenly as possible. Then, I would place these small elements to fill in any gaps or odd spots in between. Because of this, you never want to use only large images in a glass design. It's best practice to balance the design with small and large images to make placement much easier.
A final tip when designing these wraps is to increase the stroke on your images if you zoom out and think anything looks thin. You always want to avoid any thin lines, type, or images when glass etching. This is because thin designs lead to stencils with not enough room to let the etching cream work. Your etched image will be unclear. 
Step 2. Upload Design to Design Space and Prep
If you made your design in Cricut Design Space, go ahead and skip this step. If not, upload your file as usual, selecting Complex in the background selection process, and then adding it to an artboard. If you didn't design your wrap to size, now is the time to double check the measurements of your glass project and size your project accordingly. 
Design loaded into Design Space & sized
Step 3. Cut Out Your Vinyl Design
This part is easy and the color vinyl you choose doesn't matter. So use whatever scraps or odd colors you have lying around. This vinyl is just a stencil that is going to be thrown away at the end of the project. 
Project cutting on a Cricut Maker 3
Step 4. Weed & Prep Your Design
As with any other vinyl project, weed out your design and mask it with transfer tape. However, there are two options for how you weed your design. You can weed around your objects, removing the background, or you can weed inside of your objects, making them essentially stencils. It doesn't matter which way you weed the design as it's a matter of personal preference how you want your vinyl project to look. I personally like weeding my design to make stencils. If you aren't sure which way you'll like best, know that whatever part of the design you weed is the part that will be glass etched. 
Take a look at these example photos:
This design was weeded by removing the background or vinyl around the images.
This design was weeded by removing the vinyl inside the images.
This is my project design weeded out and ready to be put on the glass:
Botanical glass design weeded using the stencil method.
Botanical glass design masked with TapeManBlue paper transfer tape. 
Step 5. Clean Your Project Blank
This step seems simple but it's very important. Using an alcohol wipe, Windex, or whatever you have on hand, make sure you wipe down your project. If oils or anything else from your hands are sitting on the surface of the glass, the etching cream will not work as solidly as it should.
Step 6. Place Your Design
For this, remember that as mentioned in step 1, you either place your design all at once as a wrap or place it in segments. If your glass item is flat, place all at once. If your glass item is very rounded or curved like a wine glass, place it in segments. For this project, I am placing the design all at once using my TapeManBlue paper transfer tape.
Application of the design
Step 7. Check for Bubbles & Creases
After removing the transfer tape, smooth out your design and look very, very carefully for any bubbles or creasing. This is crucial to the outcome of your project. If there are any bubbles or creases, the etching cream will go under the vinyl outside of your design and ruin your final image. You want to make sure that the only part of your glass that is exposed is where you want your design to be. The more careful you are with your vinyl application, the crisper and cleaner your lines will be. 
Glass with stencil vinyl fully applied and smoothed over
Step 8. Apply the Etching Cream
Taking a craft sponge or brush, apply the cream over the glass. Gentle dab it over wherever you want to etch. Wear gloves if necessary to protect your hands or wash immediately if contact with the chemical occurs. After letting the cream sit for about 5 minutes, go over again with your applicator to make sure there are no bubbles or gaps in the application. After another 5 minutes, rinse the cream off in a sink with water.
Glass with Armour Etch applied
Step 9. Remove the Wrap
After the glass has been rinsed fully, dry it and remove the vinyl. Your glass design is complete!
Glass after washing in the sink
Pro Tip: If the etching cream did apply anywhere you didn't want it to, this is where the small elements in the design (as discussed in step one) can help again. Re-cut a small element such as a group of dots or stars and apply over whatever little mistake happened. You can just reapply the cream to this one spot and make the mistake look intentional! This is a great way to fix your project the first couple times you try etching if something goes wrong.
Glass after vinyl has been removed 
Glass Etching Project Ideas:
Wine glasses

Drinking cups

Glass coffee mugs

Glass water bottles

Baking dishes

Glass plates

Windows

Mirrors

Picture frames

Vases

Candle jars

Perfume bottles

Flower pots
TapeManBlue Transfer Tape Is Perfect for Your Projects
To easily transfer your vinyl projects, purchase transfer tape from TapeManBlue. Our transfer tape is made in the United States from high-quality materials. We offer free shipping on all orders and everyday low prices for your products.