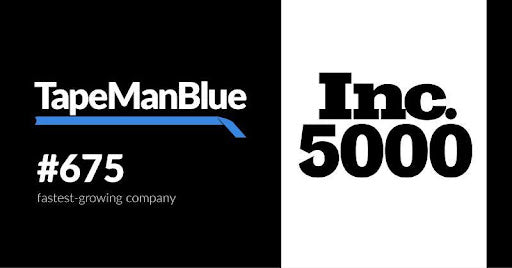 Inc. Magazine Lists TapeManBlue as One of The Fastest Growing Companies
This past month, TapeManBlue was ranked #675 on the 2021 Inc. Magazine 5000 list as one of the fastest growing companies in the United States! As this prestigious ranking brand has recognized fast growing privately held businesses since 1982, many come to this list to find the most dominant and reliable small businesses. The company is honored to receive this praise as we have made major developmental strides, growing revenue by 720% in the past 3 years. 
About Inc. Magazine
In 1982, Inc. Magazine introduced its "Inc. 500" list which has showcased the nation's fastest growing, private companies throughout the past 39 years. To allow consumers and companies to get a better understanding of entrepreneurial developments in the USA, the magazine made a change in 2007. That year, Inc. expanded this list to include 5000 companies, introducing the Inc. 5000. 
Hosting several celebratory events, Inc. shows true care and pride in their chosen companies. Their biggest annual event held is The Inc. 5000 Conference & Awards Ceremony. This event celebrates the year's Inc. 5000 companies while allowing alumni and entrepreneurs to network and learn from each other.
The brand has received many outstanding awards, allowing media consumers to hold great trust in the accuracy of the list. Some of these awards include winning the National Magazine Award for General Excellence in 2014 and 2012 and the Advertising Age's "The A-List" in January 2015. With this, the magazine's monthly audience reach has skyrocketed 1250%, reaching 23,000,000 more consumers since 2010.
This unique magazine is dedicated to celebrating and promoting small, growing businesses to give them the national exposure they deserve.
How We Got Here
Since 2006, TapeManBlue has provided customers with high-quality products they can trust at competitive price points. We have always valued our customers, proudly establishing customer loyalty as many return year after year to purchase our products. 
Many factors have gone into upholding our brand's values and standards for our customers. In an industry where product purchasing methods have become outdated, we have changed the game with our e-commerce platforms. Using digital sales channels like Amazon and Shopify to ship directly to your door, the company has made product purchasing as easy and user-friendly as possible. 
The company has chosen to insource materials and manufacturing, making our products American-made. We have created trust between our suppliers, and they have continued to produce high-quality products that have exceeded our standards. These same American suppliers share the same passions to stimulate our country's economy. Creating a sustainable, eco-friendly product is of great importance to us as we have chosen to reduce unnecessary transportation waste that many competitors obtain through outsourcing. 
Our Continued Growth
The company looks forward to continuing to expand with more product lines and e-commerce channels available in the future. With our most recent e-commerce platform addition, Walmart.com, we are excited to soar further into more online retail outlets throughout the next few years. With this, our goal is to add more clients to our portfolio, reaching new markets and different demographic needs.
Once again we would like to thank Inc. Magazine for acknowledging the company's continued revenue growth and remarkable achievements. We are so excited to continue on this path to even greater success over the next coming years. 
Find out more information about this year's Inc. 5000 list on www.inc.com.