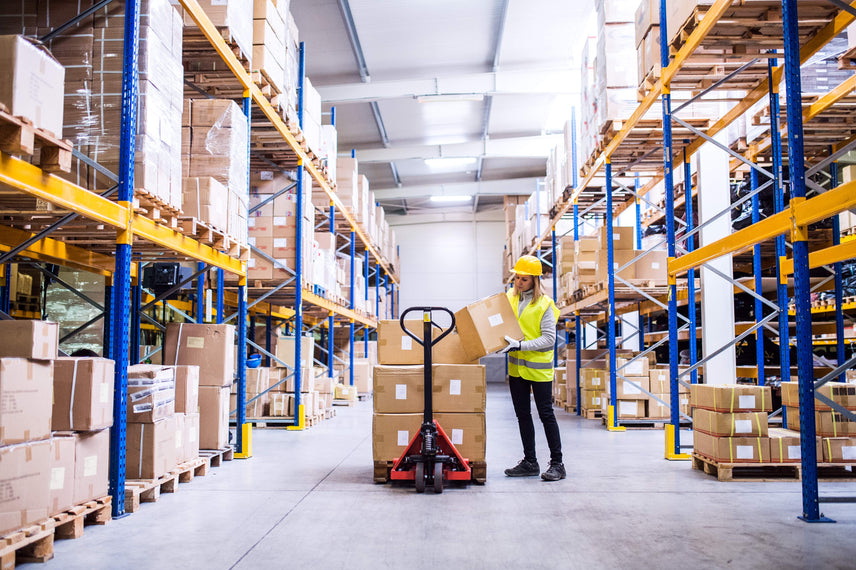 3 Benefits of Buying Painter's Tape in Bulk
Painter's tape is one of the must-have staples in every painter's toolkit. Designed to stick to its applied surface without leaving any residue behind, it's lightweight and responsive to pressure. Easy to apply and peel off, this tape allows for clean lines and perfect symmetry without any damage to the surface.
If painting is a regular part of your business, you'll be glad to have a generous supply of blue and green painter's tape. Here, we delve into the top three benefits of buying painter's tape in bulk.
Why Is Painter's Tape So Expensive?
Because of its special design and residue-free results, painter's tape costs more than your average roll of sticky tape. That's because it offers premium properties and desirability for contractors and painters.
Of course, the comparatively higher cost of painter's tape leads to vastly improved results. Contractors can get the job done right on the first try, without needing to scrape off any leftover residue, repaint a damaged wall or slow the process to replace poorly stuck tape. When you opt for a premium painter's tape, you know you're buying tape you can trust.
Why Consider Buying Painter's Tape Wholesale?
Buying in bulk is a fantastic option for commercial businesses, contractors or painters who handle multiple projects or need large supplies of tape. Those who juggle several painting jobs can save significantly by purchasing their supply wholesale. With all the bulk painter's tape, you need on hand, you can cut down on costs, increase productivity and streamline the painting process.
Three Reasons to Buy Painter's Tape in Bulk
If you are a frequent painter's tape user, you already know how important this tool is. Along with a quality paintbrush and the paint itself, using non-residue yet sturdy tape can mean the difference between a messy and damaged paint job or sleek, perfect lines.
Painter's tape is an essential component in creating the right finished look. You want to have all you need on hand for every project. For one project alone, you'll find several uses for painter's tape, from door edges and wall trims to windows and floors. Purchasing wholesale allows you to save on money and time. Let's explore three of the benefits that commercial businesses experience when they choose to stock up on their tape in bulk.
1. Cut Down the Cost
Painter's tape costs more than your typical adhesive. You can cut down on the price and make your business's budget happy by buying painter's tape wholesale.
Purchasing five or more cases of TapeManBlue painter tape, for example, will total only $99 per case, saving you a pretty penny. You'll find that buying in bulk from TapeManBlue cuts down the cost when compared to other suppliers, many of whom charge an average of $200 for the same sized case.
2. Keep Your Supplies On Hand
Whether you're a commercial business, contractor or painter, you know the importance of having your supplies ready before you begin a project. Few things are worse than being prepped to begin only to realize you're missing an essential item and need to halt production to order more.
Buying bulk painter's tape will help you avoid this scenario and keep your team fully stocked for any paint job on the horizon. You'll be ready to work with efficiency and the best quality in the business.
3. Benefit From Multi-Purpose Use
You never know when you'll need to use painter's tape. Its function goes above and beyond simply marking off sections of the wall when completing a paint job — in fact, painter's tape is the perfect tool for many jobs. Its adhesive-free material leaves no sticky trace behind yet remains sturdily in place during your project.
From protecting delicate hardwood and door edges to keeping glass and windows safe from damage, painter's tape comes in handy during virtually any project. It can also be used to hang items on the wall without fear of peeling away paint when it comes time to remove it.
When you buy painter's tape wholesale, you have the option to use this flexible item for several projects at any time without fear of running out.
Buy Premium Blue Painter's Tape at TapeManBlue
Wondering where to buy bulk painter's tape? TapeManBlue offers high-quality yet affordable bulk blue painter's tape. Our American-made tape allows for 21-day clean removal and is completely residue-free. Its UV resistant design makes it ideal for both interior and exterior use, while a range of possible sizes gives you flexibility and options.
We offer significant discounts when you buy in bulk, in addition to free shipping on your order. Forget running out of masking tape supply halfway through a project or paying more than you need to on a small order. It's time to stock up and get prepared for all your projects to come. Place your order for Blue Painter's Tape today!