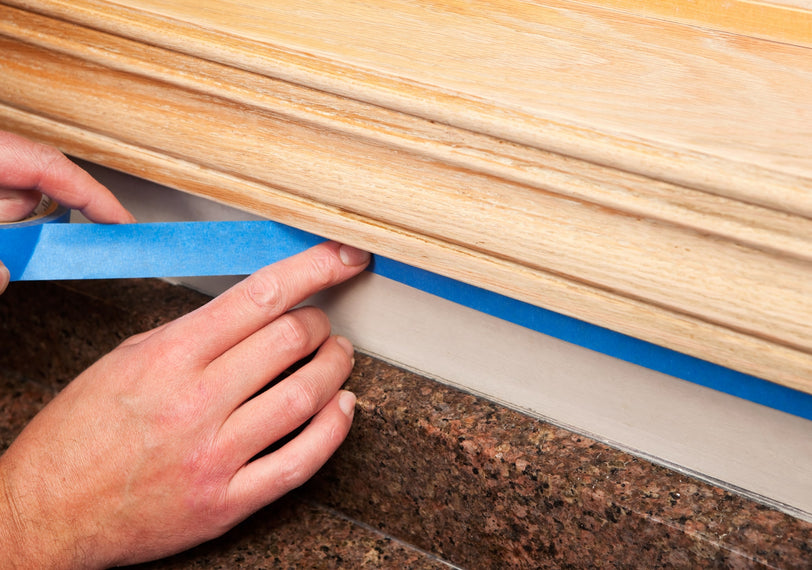 14 Creative Uses for Blue Painter's Tape
Are you looking for ways to spruce up your business or home? Consider incorporating blue painter's tape into your next commercial or home project. Blue painter's tape is the industry standard when it comes to protecting walls. You might have used it before along baseboards or the ceiling during an interior painting project. The tape guarantees crisp, clean lines and prevents painting mishaps, ensuring the paint is only going where it needs to. 
But painter's tape can do a lot more than help you paint within the lines. Whether you're a homeowner looking for a fun DIY project or a contractor looking for exciting new products to offer clients, painter's tape has a lot of potential uses.
Shop Blue Painter's Tape
Creative Ways to Use Blue Painter's Tape
In today's world, more and more homeowners and families are taking projects into their own hands. In a 2015 study of 1,882 homeowners in the U.S., 65 percent of homeowners reported planning DIY home improvement projects. These projects are often an effective way to save money while also spending quality time with loved ones.
If you're in the process of planning a home project or even simply looking for ways to make your everyday life easier, don't forget to grab some blue painter's tape. From picking up pet hair to planning an art wall, there are plenty of ways to creatively incorporate blue painter's tape into your DIY project plans or even in everyday life.
Blue painter's tape is also an essential go-to for numerous projects for contractors, painters and home remodelers. Beyond helping you provide a professional paint job, there are a few other ways you can use painter's tape.
Here are our favorite ways to use blue painter's tape:
1. Paint New Wall Art
Businesses looking to brighten up their space might contract painters to revamp their interiors with wall art. While a new solid-colored paint job will sometimes do the trick, take the extra steps to incorporate some intricate linework or different shapes into the wall art using blue painter's tape. When discussing how to create a geometric design with painter's tape for commercial projects, start by laying down blue painter's tape around outlets, trim and anything else you don't want to get paint on. Then, lay down the tape to establish the lines and shapes you're trying to create. 
Since TapeManBlue's blue painter's tape comes in five different widths, you can create various sized lines for a unique, custom piece of art. Our painter's tape ranges from 3/4-inch wide to 3-inches wide. Businesses may choose colors to correspond with their brand logo or choose colors to convey a specific mood. Remove the tape once the paint is dry to reveal the stunning new wall art.
2. New Tabletop Designs
You can use blue painter's tape to create new designs on the surface of tables. For example, you can tape off a design created by a client or use the tape to paint a company's logo on a conference table.
The first thing you'll likely need to do is paint the tabletop white, so any colors you paint on top will show up brighter. You may need multiple coats of white paint, especially over a dark table. You may choose to paint the frame another color, such as black, so the tabletop pops even more. After the paint is dry, attach the blue painter's tape to the top of the table to create the design, then paint with the desired colors. After you finish painting, you can peel back the tape to reveal the new design or repeat the process to create more lines or shapes and add additional colors. 
3. Keep Track of Small Parts for Projects
For any remodeling projects that require you to break out the toolkit, trust blue painter's tape to help keep track of the smallest screws or drill bits. When dealing with miniature pieces in a project, it becomes difficult to keep track of them, and if one falls on the floor and rolls under another piece of furniture, finding it could prove to be a virtually impossible task. Tape your small parts down with painter's tape to avoid losing anything you need during any installation projects. You probably want to go with a thicker piece of tape, such as the 3-inch-wide blue painter's tape, so that you can keep track of as many small pieces as possible. 
Going up and down a ladder to retrieve tools and pieces isn't the most convenient method, and it presents more opportunities to drop any small screws. Keep these pieces on the top step of your ladder to access them without worrying about the parts rolling off and getting lost once they hit the floor. 
4. Establish an Interior Layout
When working on remodeling projects, it can be challenging to keep track of where all of the furniture and appliances are going to go. Add keeping track of measurements on top of that, and things could become slightly overwhelming.
Since you can safely use blue painters tape on almost any area inside, including walls and tile and hardwood floors, you can plan out exactly where each item will go. Are you remodeling a living room? Measure and put down blue painter's tape in the exact dimensions of living room furniture such as a couch or entertainment center with the width outlined on the floor and the height marked with tape on the wall. You can also place painter's tape on the walls where any wall art or picture frames go. When you use blue painter's tape to establish an interior layout during remodeling projects, there are no guessing games — you can envision everything as it's supposed to be.  
5. Upgrade Your Dresser
Want to add a bright pop of color without repainting your bedroom walls? Use blue painter's tape to help upgrade your dresser. It helps if you have a white or another light-colored dresser, so you may need to apply a coat of primer first. Add stripes of painter's tape on the dresser before you paint for crisp, straight lines of white in between the different-colored drawers. 
6. Keep Food Closed
Tired of snapping clothespins or misplacing plastic chip clips? Use blue painter's tape for a catch-all solution to keep your food bags shut. While it may seem like one of the weirder uses for blue painter's tape, it helps prevent things from going stale and is much more convenient than continually spending money on lost or broken clips. Plus, the tape effortlessly peels up so you won't have to struggle to open the bag and the bag won't have any sticky remnants on it, either. Keep a roll handy in the kitchen — you never know when hunger will strike. 
7. Label, Label, Label
Who needs a label-maker when you have a roll of blue painter's tape and a marker? Use blue painter's tape to label anything from food leftovers to travel items. Label boxes and containers so that no one in your home needs to guess what's inside. Open the pantry and label shelves to find anything you need efficiently. Moving to a new house can be exhausting, so save time going through random boxes and stay organized by labeling each box. You can also use painter's tape to keep your garage neat and orderly or to label jars of flour, sugar and more. Save time and stay organized with blue painter's tape.
8. Create a Makeshift Lint Roller
More than 40 million U.S. households own a cat and more than 60 million own a dog, so many people know the struggle associated with pet hair. Pet hair gets everywhere — the couch, the floor and even all over you, from your shirt to your shoes. Plus, as many as three in ten people in the U.S. suffer allergic reactions to cats and dogs, so leaving the house covered in pet hair could negatively affect others. For a quick solution, grab your handy roll of blue painter's tape and wrap it around your four fingers to create a makeshift lint roller to remove the hair from your clothes before you leave the house.
9. Write Reminders
Whether you need to remind a family member about something or put a reminder somewhere for yourself, ditch the sticky notes and use blue painter's tape instead. Compared to painter's tape, the adhesive on sticky notes is weak and could fall off of a door or wall with a subtle breeze, so you or a family member may not get the reminder. For notes that stick, use blue painter's tape to put anywhere in the house, such as walls, mirrors or cabinets without worrying about damaging the surface when you take the tape off. 
10. Protect Kids From Outlets
If you live in a home with children or if children frequently visit your home, cover your outlets to prevent shocks or burns. According to the National Fire Protection Association, roughly 2,400 children are shocked or burned each year when they insert items into electrical outlets. When you're expecting children at your home, cover your outlets with blue painter's tape to prevent anything from going in and to keep the kids safe.
11. Organize Cords, Cables and Wires
With different wires, cords and cables around the house, things can easily become jumbled up. Group any loose cords, cables and wires with blue painter's tape to keep things orderly. For any extra long wires, cables or cords that lie on the ground or any that run up the wall, use blue painter's tape to secure them.
12. Try Out Different Rug Sizes
If you're looking to add a new rug to your living room or dining room but aren't sure what size to get, use blue painter's tape to test out different dimensions. Rugs are an expensive piece of decor, so it's essential to know how a particular size will look before you buy. Plus, the wrong size rug could make your room look smaller than it is, so use painter's tape to test your rug options ahead of time.
13. Use for Social Gatherings
For any party or social gathering, you may be surprised at how many different ways you can use blue painter's tape. Use painter's tape for decorations that will stay up all day but come off with ease without damaging your walls. Have an oversized tablecloth that won't stop sliding? Secure the edges under the table with tape. If you're putting food out on plates or drinks in clear containers, use the tape to label everything. Then, once people grab their drinks, you could even use it to label the cups so that no one picks up someone else's cup. 
14. Plan Out Your Wall Decor
If you're tired of looking at bare walls, consider decorating with different pictures, posters or mirrors. Measure your frames or mirrors and use blue painter's tape to map out the dimensions on your wall. This way, you can have a clear vision of how everything will look, before you put any holes in the wall. Plus, it's much easier on you and your walls to remove and reposition the tape than it is to drill in new holes or put in new nails. 
Shop TapeManBlue's Blue Painter's Tape for Your Next Project
For commercial projects and DIY home projects alike, shop TapeManBlue for all of your blue painter's tape needs. At TapeManBlue, we know that you need something durable yet safe for any surface. That's why we make our tape with a specially-formulated, medium tack adhesive that lasts for any of your multi-day projects and can be removed safely for up to three weeks. TapeManBlue ensures top-grade quality, as all of our products are made right here in the U.S. We also offer free shipping on all orders and additional discounts on bulk orders. With blue painter's tape, you'll never run out of uses, so stock up. Don't wait — shop TapeManBlue or contact us today and get started on your project. 
Shop Blue Painter's Tape