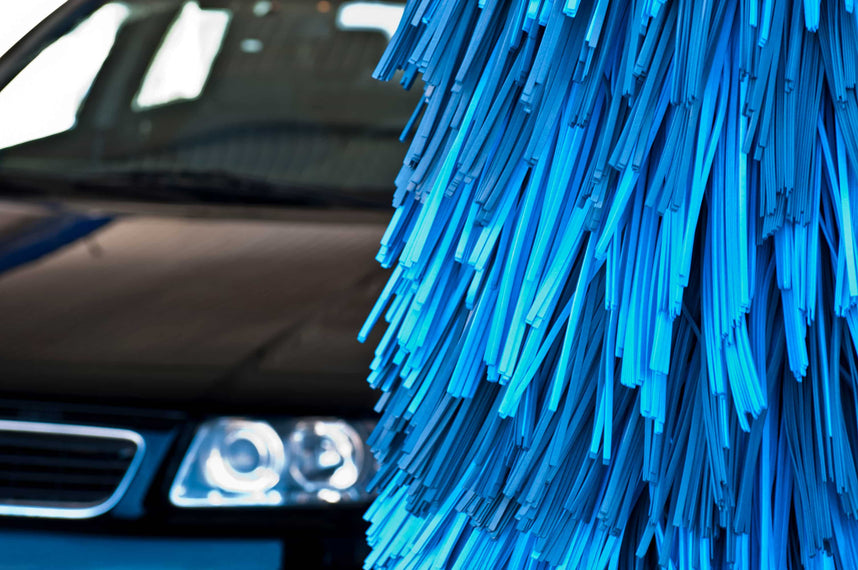 Using Blue Tape at Car Washes
People love putting unique and sometimes strange decorations on their cars, and there's usually some underlying reason to do it. But there are some things you may see and have no idea how to explain. For instance, you may ask yourself, "What's up with the blue strip of tape on that person's car?" You may notice blue tape placed in the same spot on multiple vehicles — or even, quite to your surprise, on your own.
In many cases, what you're seeing is blue painter's tape on a car's rear windshield wiper. A car wash employee likely placed the blue tape there, and they have a good reason to do so.
Why Do Car Washes Use Blue Tape? 
When you take your vehicle to a car wash, you're putting your investment and your trust in its employees and equipment. Car wash workers care about making sure your vehicle makes it through the cycle safely and comes out squeaky clean on the other side. While heavy car wash equipment like overhead rollers can provide excellent performance, an unexpected snag could spell trouble. 
On some occasions, the rollers will catch on a car's windshield wipers, resulting in damage to the vehicle or even the roller itself. Rear window wipers are particularly vulnerable to this issue. Car washes use blue tape as a quick and easy way to secure a vehicle's rear wiper blade during the wash cycle, potentially saving them thousands in vehicle or equipment repairs. 
Why Is Blue Tape the Best Choice?
You may be able to make sense of the reasoning behind a car wash using blue tape, but why is painter's tape the most commonly seen solution? There are a few reasons why car wash staff members put blue tape on cars rather than other options. 
For one, blue tape is strong without being too strong. Car washes prioritize efficiency when handling a large number of customers, and blue tape rises to the occasion. Blue tape provides a tight hold that will keep the rear wiper in place during the cycle, but it isn't so strong that it's difficult to tear, or worse — prone to peeling off the car's paint. 
Another reason car wash employees opt for blue painter's tape to secure rear windshield wipers is for the visibility. Blue tape offers some visual advantages, one being that it's easy to spot. Choosing a conspicuously colored tape makes it less likely that the customer or a staff member will forget to remove it before the car leaves the lot (though it still happens from time to time). What's more, blue tape looks more polished than other makeshift solutions like plastic bags.
Where Can I Find Blue Tape for My Car Wash?
If blue tape painter's tape sounds like a good solution for your car wash, you can find it and buy online through TapeManBlue®. We offer free shipping and bulk discounts on our high-quality American-made blue painter's tape so you can order the quantity you need to handle your workload and get the job done right. Order our blue tape online today, or contact the TapeManBlue team for more information on our products.