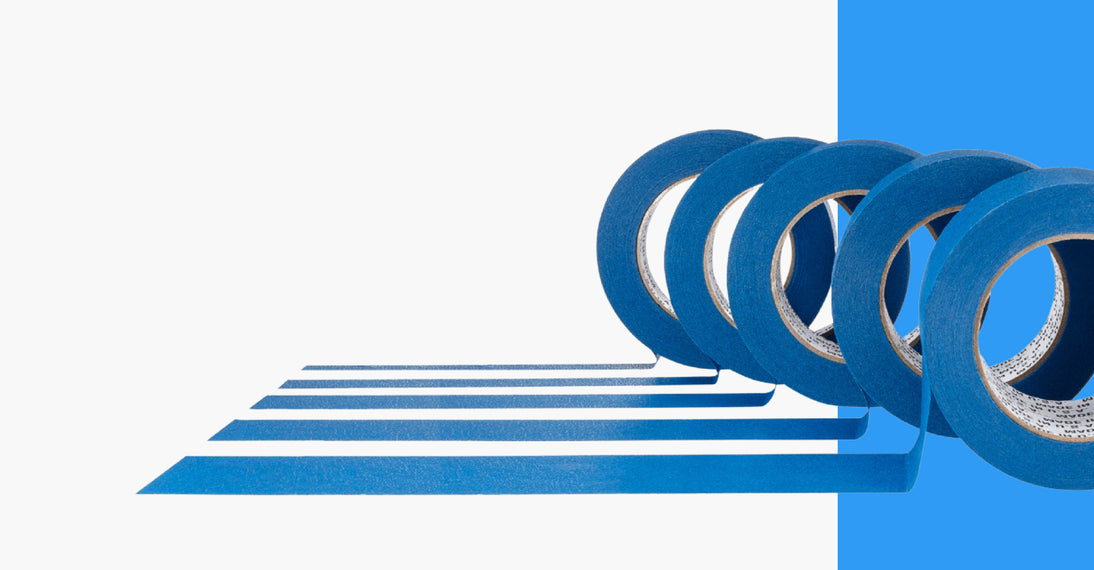 Your Ultimate Guide to Taping Gym Floors and Sports Courts
When it comes to indoor and outdoor sports, it can be helpful to designate areas for different activities. Floor tape allows you to mark temporary court lines for tennis, basketball, volleyball and other sports. Using floor tape can help indicate established boundaries and section off parts of your gym or court for various purposes.
If you're an educator, community leader or athletics coach, you want to use robust and high-quality marking tape to ensure you get the job done right. TapeManBlue can help you find the best tape for pickleball courts, soccer fields and indoor gyms. We provide high-performing and durable tapes that will enable you to provide safe and efficient spaces for sports practices and games.
What Are the Benefits of Floor Marking Tape?
Aside from industrial, maintenance and general safety purposes, floor tape can provide helpful guides at sports facilities, studios and both indoor and outdoor athletic spaces. When you need to set up a temporary area in the gym for games or want to tape pickleball lines on a tennis court, you want to provide your students and community members with a clearly designated area with boundaries that will stay in place. You may also find floor marking equipment helpful for applying tape to turf fields or track fields.
Why Choose Floor Marking Tape?
Many people use floor tape to divide up space temporarily for drills, training and games. Teachers and coaches often find floor tape valuable for organizational, educational and instructional purposes and indicating short-term court lines. Floor marking tape provides clean, crisp lines to display areas for gameplay, create easily visual boundaries that can help guide players' movements during specific exercises and activities.
Gym teachers, community center leaders and educators can also use floor marking tape to make specifically designated areas more visible. They can use the bold, eye-catching colors of floor marking tape to coordinate with school or organization colors or create associations between various tape colors and specific activities. These bright colors also serve to make the distinctly marked areas more visible.
Are There Any Advantages Over Paint?
While paint can create permanent lines on gym floors and sports courts, removable marking tapes have the added advantage of allowing for easy and even last-minute layout changes. Tape is much faster and easier to install and replace than painted lines, and its temporary nature also allows for simple adhesion and non-damaging removal. You also won't have to wait for the tape to dry as you would with freshly painted lines.
Many marking tapes are scuff- and break-resistant, unlike paint which can chip easily or get scratched off with increased activity. Unless you use a wax finish for sealant on your painted floors or courts, the paint will fade with time. Gym floor tape can hold up for weeks or months of practices, training, tournaments, games and matches, depending upon the particular type of tape. In addition, whereas stored paint will eventually dry out, floor tapes will retain their stickiness and maintain greater longevity than paint.
Installing, Removing and Maintaining Floor and Court Line Tape
TapeManBlue tape is easy to install and secure the adhesive to many different floor surfaces. Applying the adhesive tape is a simple and straightforward process, and you can also remove the tape as cleanly and efficiently when you need to make changes.
How Do You Apply Tape to Floors?
When you want to apply tape to your floors, start by cleaning and drying the surface. Thoroughly cleaning with isopropyl alcohol will eliminate dirt and debris, which can cause tape failure or a need for repair. Then, leave the floor to dry for several hours until all moisture has evaporated. To check that you have successfully removed all contaminants, you can lay a small piece of floor tape to check whether any dirt and dust remain and then repeat the cleaning process if necessary. Properly cleaning and drying the floor before tape installation will also ensure that your tape sticks to the floor correctly and lasts longer.
Before installing your tape, make sure you plan in advance where you want to apply it. Hold the tape in position, remove any backing, and press the tape firmly against the floor's surface to lay straight or curved lines. Smooth out the tape as you apply it to eliminate air bubbles and use heavy-weighted items to tamp down the tape to secure it to the applied surface. When taping corners, use a butt splice connection rather than overlapping the ends of the tape.
What Is the Best Practice for Removing Floor Tape?
When you are finished with your tape, you may need to use a razor blade to score the edge of the tape and lift it for easier removal. Then, you'll pull the tape slowly and at a 90-degree angle, taking care that the tape comes off completely and cleanly. Remember to remove the tape as soon as you are finished with it to prevent extra accumulation of adhesive residue. Each tape has a different window of time in which you can remove it cleanly from the surface of your floor. If you have trouble removing your tape, you can try applying heat to the tape to aid in the removal process by relaxing the adhesive.
If you need to remove adhesive residue from your hardwood gym floors, concrete or other court surfaces, follow these easy tips:
Use a commercial cleaner:

 Choose a product designed to remove adhesive residue and follow the safety and usage instructions to prevent stripping the color and sealant from concrete surfaces.

Try homemade cleaners: 

If you prefer natural cleaning options, vegetable or olive oil can work well to get rid of residue stuck to your floors. Use a rag dipped in oil to scrub at the residue and remove it without causing further damage.

Have your floors finished beforehand:

 Ensuring your sport surfaces have a strong finish before installing floor marking tape can help prevent any adhesive residue from being left behind when you remove the tape. A finish or sealant applied to your floor will keep oil and cleaning products from seeping into the wood or concrete.
To prevent adhesive residue, research before applying your tape to be certain you use the right type for the job and follow the usage directions properly when you install it. You can explore our high-quality TapeManBlue adhesive products online to find the perfect tape for what you need. Using tape suited for your specific floor surface and environmental conditions will lessen your chances of leaving behind any adhesive residue.
How Do You Maintain Your Floor Marking Tape?
TapeManBlue marking tape can handle heavy foot traffic and consistent use. To prolong the life of your gym floor marking tape, you'll want to keep it clean. You can use the same cleaning products on your floor marking tape which you use on the rest of the floor's surface. Whenever you clean the floor or court's surface, check for any damage to the tape such as torn or frayed edges, stretched tape or adhesive wear and replace those sections as necessary.
To take proper care of your gym floor tape, you'll want to check for damage and any signs of excessive weathering. However, a quality floor marking tape is built to withstand extreme temperatures, high winds and water exposure and will prove its endurance. Vinyl tape can be an excellent choice for areas regularly exposed to moisture or that may become wet, such as outdoor spaces, due to its high integrity and ability to form a stronger bond with rougher surfaces.
What Tape Should You Use?
If you use tape that is too aggressive or adheres too strongly to the floor, it can strip the finish off of your gym floor upon removal. With floor tape from TapeManBlue, you can apply your tape free of stress and with complete confidence that it will accomplish its purpose and leave no lasting residue. However, some tapes are better suited for hardwood surfaces like gymnasium floors, concrete surfaces like outdoor basketball courts or special sport surfaces like outdoor tennis courts.
But how do you know which tape to use for your different sports areas? Here are some options to consider when you're looking for the best tape to use for marking a gym floor or other sport court.
Hardwood is a popular choice for gymnasium flooring. Wooden floors, especially, have become synonymous with athletic performance due to their low maintenance, flexibility and propensity for shock absorption and surface friction. Sports played on hardwood gym floors, such as basketball and volleyball, will require a versatile tape with a slightly lower tack. Even if you're sectioning off part of your gymnasium for a temporary or DIY pickleball court, you'll want to protect your gym floor and ensure that your tape sticks.
However, higher-tack tapes work best for rougher surfaces, such as concrete or cement surfaces and even outdoor spaces. Some sports require the absorption, deflection, ball bounce and traction, which concrete and cement sports court surfaces provide. Concrete is a great base material for outdoor sports courts due to its permanence, strength and ease of maintenance.
Blue Painter's Tape
For hardwood floors as well as tile, we recommend a mid-level tack tape. TapeManBlue's blue painter's tape is a specialized masking tape with medium tack. Blue painter's tape typically provides the maximum flexibility for floor marking and other uses and is available in widths of 0.75 inches, 1 inch, 1.5 inches, 2 inches and 3 inches at 60-yard-length rolls. Our American-made blue painter's tape is the best choice for basketball and volleyball court marking tape. Unlike masking tape, blue painter's tape will peel off cleanly and easily and alleviate any worry of damage to or adhesive residue on your gym floor. Our blue painter's tape is less sticky than higher-tack tapes and allows for clean removal for up to 21 days.
While our blue painter's tape is ideal for indoor use, it is also UV resistant, allowing it to work well outdoors on surfaces such as tennis courts and tracks. If a play or sports area is concrete, a tape that adheres to rougher surfaces may better suit your needs.
High Tack Green Painter's Tape
TapeManBlue's high tack green painter's tape forms a stronger bond than blue painter's tape, and as its name implies, it is a higher-tack tape that adheres more fully to rougher surfaces. Green painter's tape can endure heavier foot traffic, is durable on uneven or jagged surfaces and is UV-resistant for both indoor and outdoor use. While blue painter's tape is ideal for wooden or more delicate surfaces, it is best to apply higher adhesion tape such as green painter's tape to rough or outdoor surfaces.
If you're looking to use tape to mark an outdoor soccer or track field, you'll want to use green painter's tape for your floor marking needs. Our American-made high tack green painter's tape is available in 60-yard rolls of widths of 1 inch, 1.5 inches, 2 inches or 3 inches and removes cleanly for up to 14 days with no residue left behind. You can ensure that your tape secures firmly to turf and grass fields, concrete, cement and brick without succumbing to any weakening through weathering and the elements.
Red Stucco Tape
Another tape ideal for outdoor use is TapeManBlue's red stucco tape. For concrete surfaces like outdoor basketball courts and even horseshoe or bocce ball court areas, you'll want to turn to red stucco tape. TapeManBlue's highly visible and heavy-duty red stucco tape conforms and adheres well to rougher and more textured surfaces. This particular tape is also formulated for minimum stretch, easy application and versatility with its long-lasting wear time.
Our industrial stucco tape is also UV-resistant and weatherproof for extended outdoor use through sun and rain. At 2 inches wide, 60 yards long and 7.5 mils thick, red stucco tape also removes quickly and cleanly for up to 60 days. Red stucco tape can also hold firm to other uneven surfaces such as brick, concrete and rough wood.
Shop Floor Marking Tape From TapeManBlue
TapeManBlue tapes have a diverse array of applications and are incredibly versatile. When you need to apply floor marking adhesive tape, TapeManBlue is here for you. We will alleviate any worry of leftover tape residue and provide you with the best quality and most resilient tape for all of your sports needs. Our tape's simple adhesion process and non-damaging removal will keep you feeling confident in your gym floor and sports court surfaces. When you order online, you can also enjoy free shipping on your orders and additional bulk quantity discounts.
For the highest quality wholesale tape you can trust, choose TapeManBlue. Shop our competitive prices and browse our wide selection of floor marking and court line tape today!