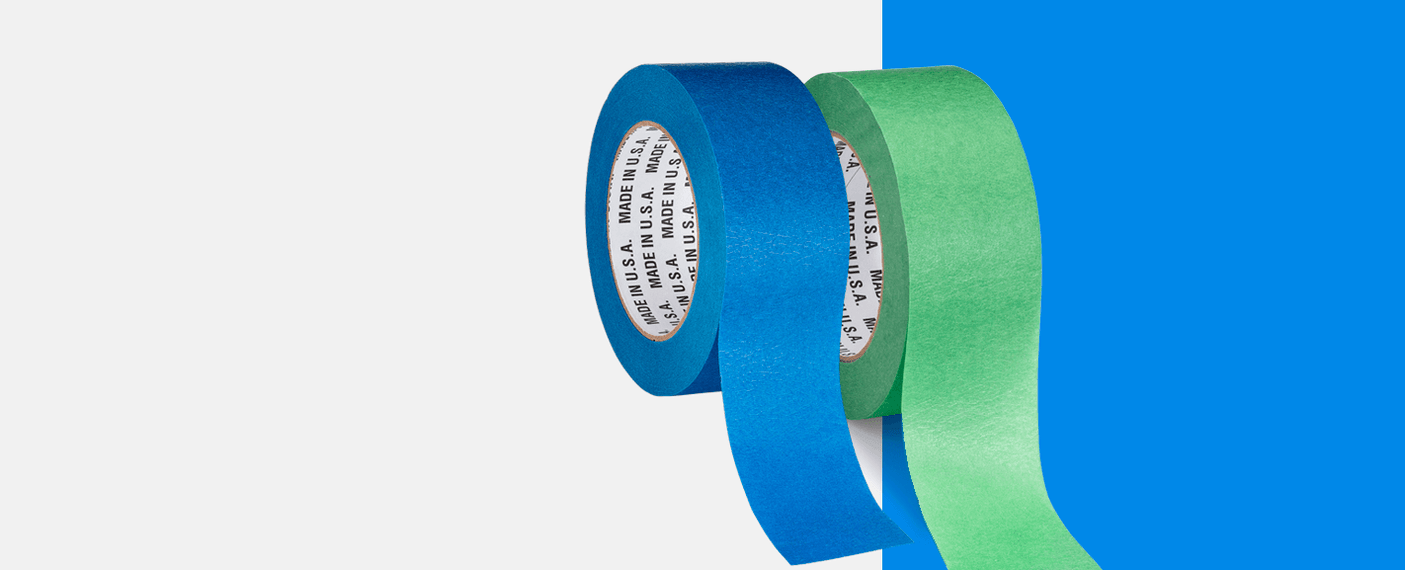 How to Choose the Right Tape for Your Project
Quality tape is an essential tool for many professional projects, small and large. Whether you're painting a room or creating graphics with vinyl transfers, you need to get the job done right. Choose a tape that's suited for the job — from indoor to outdoor, construction to maintenance needs and more.
Below, we'll go over the different types of tape to help you select the best for any future projects. Get answers to commonly asked questions and feel confident in your choice with these tips for what type of tape to use for your project.
Blue Painter's Tape
Blue painter's tape is the perfect type of tape to use when painting. With its clean removal adhesive, blue painter's tape will remain on your wall for the duration of your paint job and remove easily and residue-free for up to 21 days. Blue tape has the flexibility to tackle various projects and surpasses the quality of other painter's tapes on the market.
When to Use Blue Painter's Tape 
Job site construction, home renovation and flooring or tile installation are some of the top jobs that need blue painter's tape. Surfaces you can use blue painter's tape on include:
Walls
Trim
Tile
Hardwood floors
Woodwork
Doors
Windows
Glass
Blue painter's tape offers an ideal balance between lasting stick and clean removal for various jobs. Traditional masking tape is designed to be way stickier. As one of the stickiest types of tape, masking tape isn't suited for these applications as it could pull up the material underneath the tape when removed. Blue painter's tape is the ideal solution.
Many professional industries prefer the quality and versatility of blue painter's tape for their projects, including painting, construction, restoration, remodeling, flooring and sign making. Even retail, education and government industries have relied on blue painter's tape to complete projects and improve daily processes. 
Green Painter's Tape
Use green painter's tape to handle projects that require tape with a higher tack. Blue painter's tape is medium-tack, making it highly versatile. Sometimes, you'll encounter rough and uneven surfaces that rise above what blue tape can handle. Green painter's tape provides a high-tack solution tailored for uneven surfaces, rugged edges and outdoor areas. 
Green tape is manufactured to stay where you want it, especially on surfaces that seem to resist tapes with a lesser tack. This solution offers clean removal for 14 days after application. 
When to Use Green Painter's Tape
Green painter's tape is better suited for rough, uneven surfaces due to its higher tack level. Like blue tape, green painter's tape is UV-resistant for effective use indoors and out.
If your project involves any of the following surfaces, you should consider green tape for quality results:
Rough wood
Brick
Concrete
Stucco
Other exterior surfaces
Projects that require multiple layers of tape will also benefit from green painter's tape. Green tape is excellent for protecting floors with cardboard panels, too, ensuring they stay in place so you can focus on your work.
Red Stucco Tape
Protect surfaces during outdoor or indoor construction, remodeling, installation and maintenance with red stucco tape. Red stucco tape is a heavy-duty tape with reliable adhesive and high visibility. 
Red stucco tape is UV-resistant and weatherproof, so its 60-day wear time can withstand any sun and rain exposure during outdoor use. Red tape is formulated for minimum stretch and easy application.
When to Use Red Stucco Tape
While red stucco tape is best used for stucco, it can easily apply to and remove cleanly from a range of surfaces for up to 60 days. Consider red stucco tape for various construction and installation projects where you need to protect the following surfaces:
Glass
Window frames
Door frames
Metalwork
Stonework
Brick
Tile
Red stucco tape serves many functions, from masking windows and doors against overspray to seaming heavy poly sheeting. Red tape is also ideal for holding, securing and bundling any pipe, conduit, rebar and other items involved in your projects.
The red color offers clear visibility to ensure you locate and remove all leftover tape at the end of a project. This quality is crucial for large jobs where you need to provide a clean, finished result — red tape makes the cleanup process quick and efficient.
Strapping Tape
Strapping tape is a general-purpose, tensilized MOPP tape ideal for bundling, color-coding, palletizing and unitizing. Most job sites use this tape to store and transport items safely. The high-strength adhesive ensures packages are protected and transit is smooth.
When to Use Strapping Tape
Tensilized polypropylene strapping tape is commonly used in warehousing, logistics and transport industries. You can use strapping tape to:
Secure and reinforce packages for transportation and storage.
Prevent boxes from shifting in transit.
Bundle, color-code, palletize and unitize items for shipment.
Greenhouse Tape
If your project requires durability and UV protection, greenhouse poly patch tape may be the perfect tape for the job. Greenhouse tape is an all-weather tape traditionally used for greenhouse repairs and other similar applications. Today, people find many uses for greenhouse tape, which you could incorporate into your next project.
Shop Greenhouse Poly Patch Tape
When to Use Greenhouse Tape
Greenhouse tape provides durability to any repairs, patches and reinforcements. If you need a tape for seaming, splicing or heavily bundling, consider greenhouse tape for a long-lasting result. Greenhouse tape is UV-resistant for indoor and outdoor projects, manufactured to withstand all weather conditions.
Projects that greenhouse poly patch tape can handle include:
Greenhouse repairs: Repair polyethylene plastic used in greenhouse coverings.
Nursery repairs: Repair seams and cracks in nursery facilities to protect young plants from the outdoor climate.
Warehouse procedures: Reinforce boxes and heavily bundle them together for pallets.
Construction: Hold things in place indoors and outdoors while you focus on other aspects of construction.
Choose greenhouse tape for projects where your tape needs to hold on strong for an extended period after its completion. For tape you will remove, consider another option.
Surface Protection Films
Protect surfaces quickly and effectively with temporary surface protection films during your next construction project. Surface protection films keep areas safe while you focus on performing quality work.
When to Use Surface Protection Films
Surface protection films are perfect for remodeling, restoration, renovation and construction industries. They come in handy for any number of projects and can save you considerably by preventing damages and unnecessary mess. Add temporary security to areas around your current construction or maintenance project with a protection film.
Transfer Tapes
Transfer tapes and similar products offer solutions for graphics industries. Pallet tape for screen printing and other transfer tape options provide efficient movement of vinyl graphics and limit the amount of project cleanup.
When to Use Transfer Tapes 
Graphics companies and enthusiasts alike can use transfer tape for their projects. Transfer tape is ideal for industries that produce vinyl and signage graphics.
How to Know What Type of Tape to Use
Not sure which type of tape to use for your project? Our answers to the most frequently asked questions may help you make the best choice.
What Kind of Tape Do You Use on Windows?
You can trust blue painter's tape for use on windows and glass. The various widths let you protect windows and window panes of all shapes and sizes while you complete your project. Safeguard your windows against overspray, paints, plasters and acid washes with blue painter's tape.
What Is the Strongest Type of Tape?
Green tape forms a stronger bond than blue painter's tape. The strong adhesive on green tape keeps property safe and provides a better stick for rough surfaces like brick and concrete.
What Type of Tape Sticks to Brick?
Brick is common on many job sites — whether used for a fireplace, outdoor wall or a building's exterior. Green painter's tape and red stucco tape have the stickiest and strongest adhesives, making them ideal tape types to stick onto bricks and other uneven surfaces.
What Type of Tape Is Waterproof?
There are several types of tape formulated to withstand various weather conditions. Red stucco tape is waterproof in addition to being weather-resistant. It ensures a long-lasting wear time ideal for outdoor projects that may face extended periods between workdays. For long-term use in repairs and reinforcements, consider greenhouse tape for an all-weather option.
What Kind of Tape Do You Use for Packing Boxes?
Strapping tape is ideal for securing and packing boxes at various stages of the transport cycle. Whether you are moving boxes throughout a warehouse or sending packages to a new facility, strapping tape will help you get the job done right.
What Types of Surfaces Can You Use Protection Films On?
The following protection films are manufactured to keep specific areas protected as you complete nearby projects:
What Type of Transfer Tape Do You Use for Vinyl?
There are two main types of vinyl transfer tape to choose from:
Paper transfer tape: Use paper transfer tape to move vinyl graphics after you've cut them. These transfer tapes offer a range of tack levels to meet the user's individual needs.
Clear transfer tape: Use clear transfer tape for vinyl designs that need to be visible underneath the tape.
Shop Tape You Can Trust From TapeManBlue
If you know what tape you need for your projects or want suggestions, TapeManBlue is here for you. Ensure you have the most suitable tapes and films for your next project with our wide selection of products that ship for free straight to your home or business. Buy in bulk and save on high-quality tape and film products to get your projects done right. Shop various types of tape and film products from TapeManBlue today.