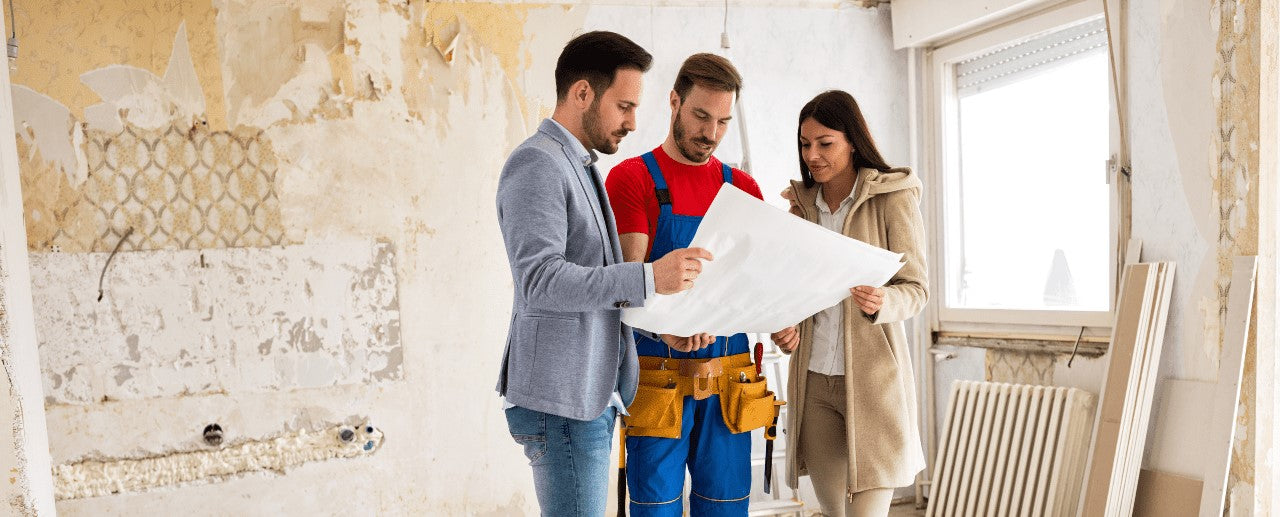 How to Prevent Costly Mistakes During Your Renovation Project
The results of any renovation should be worth the money, time and work that goes into them. Whether you do it yourself or hire a professional, you want your remodeling project done right the first time. The reality is, costly mistakes can happen during any project. So, how do you prevent or minimize the risk of error during your next project?
What to Know Before Renovating
Before a project begins, you must consider many renovation questions. Things to think about when renovating may include:
How large is the space you plan to renovate or remodel?
What upgrades, repairs and replacements will you need to address during the project?
Will the project involve plumbing or electrical work?
What materials, items, appliances and tools will the project require?
How much money will the project cost? 
How much time will the project take to complete?
Will you hire a contractor or choose to DIY?
Various factors may influence your renovation plans, so avoid costly mistakes with plenty of research and preparation.
Renovation Do's
Whether you plan to DIY or hire a contractor, these five remodeling tips are steps you want to do while planning your next project:
Research your project.
Consult with a professional.
Create a realistic budget.
Set an expected timeframe.
Take protective measures.
Research is our No. 1 recommendation for successful pre-planning — it is an essential factor of all our renovation do's and don'ts. Don't make common renovation mistakes you could easily avoid by doing your homework and thinking proactively.
13 Remodeling Mistakes to Avoid
Everyone hopes for a smooth and successful remodel free of snags and setbacks. Prepare for your next project with various renovation tips to help you succeed. Be aware of what can go wrong and ensure the job gets done right with our top 13 renovation mistakes to avoid.
1. Neglecting the Prep Work
Prep work involves all the research and effort that goes into a renovation plan before the project can begin — things to consider when remodeling may include setting a budget, measuring the space, determining a timeframe and performing any preliminary tasks that will benefit the process. When you neglect the prep work, the project can experience delays and increased costs. Minimal preparation can even derail your renovation entirely and result in unfinished remodeling. Do the prep work to save time and money later.
Before you purchase materials or start remodeling, you should:
Evaluate the property's structure.
Consult with a professional.
Take measurements.
Set an estimated timeline.
Research the necessary permits.
Prepare the property.
Preparing the property will depend on the type of remodeling job you want to complete. Before painting the walls, you may need to tape, spackle and prime them for the best results. Floor installation could benefit from precursory structural work. Consider all the details and understand your capabilities before you commit to an extensive renovation. 
Professional advice — even for DIY projects — will ensure the project gets completed correctly and efficiently. Some upgrades may bring you a higher value than others, and this knowledge can alter your plans for the most rewarding outcome.
2. Thinking Only in the Short-Term
Property owners who don't consider their long-term values and needs may focus on fruitless upgrades or miss opportunities for worthy investments. Think about how your home can better fit your requirements — both today and 20 years from now. A big-picture approach will help you make proactive changes that enhance your current quality of life and boost your property's value.
Focus on features that provide the maximum return on investment — such elements may include functional storage upgrades, new appliances and quality re-flooring. Consult with a real estate agent or other professional for specific knowledge about high-value improvements in your area.
With any renovation, you want to enjoy the new space for as long as possible. Choose timeless styles over trends, especially for more expensive purchases like appliances and furniture. Fads are short-lived, while classic looks have a greater chance of reselling the property. Go for neutral additions made of sturdy materials that complement the original architectural style. Conflicting design elements will feel out of place and may impact your property's resale value.
3. Measuring Incorrectly
Incorrect measurements are some of the most common and most costly mistakes a first-time renovator can make. Measures that are off by even a half- or a quarter-inch can cause problems and delays to your progress. When measurements are incorrect, you can have too much or too little space for appliances and furniture. Ensure the overall design will accommodate the specific fixtures you desire before purchasing and cutting your supplies.
Incorrect measuring leads you to over-purchase or under-purchase materials — a mistake that may lead to reordering materials. Avoid spending more money and time when you measure the project and recheck dimensions multiple times. If you hire a professional contractor, have them confirm your measurements before buying any materials. The process will go more smoothly when you double- or triple-check the measurements.
4. Using the Wrong Materials
When you use the wrong materials for your job, the result may not be what you intended or desire. Improper materials can even pose hazards during the process and endanger your property. Two standard products people tend to overlook include paint and tape.
Most property owners spend plenty of time picking out their favorite paint color. However, they typically forget to consider how various paint types and finishes can affect the renovation. There is paint for different surfaces, and each room may require a specific finish. Choose your paint based on color and finish. 
A matte finish: Matte paints are flat, lacking the shine of other finishes. They will show any marks on the surface and are more challenging to clean, making them an ideal choice for ceilings and walls in low-traffic areas.
A satin finish: Satin paints reflect light and are best for interior walls.
A semi- or high-gloss finish: Gloss paints have the most shine and are easy to clean. They work well in high-traffic areas like kitchens and bathrooms. High-gloss finishes are typically ideal for trim.
Tape is a helpful tool for many renovation projects, including painting your walls. To avoid unnecessary damages and ensure the best results, you must use the correct type of tape for the job. When it comes to painting projects, the difference between masking tape and blue painter's tape can be significant. Blue painter's tape is the industry standard due to its longevity, flexibility and efficiency. Other types of tape that may be handy in different remodeling scenarios include high-tack green painter's tape, red stucco tape and greenhouse repair tape.
5. Underestimating Budget
Renovations can often cost more than anticipated. Avoid setting an unrealistic budget by researching the expenses ahead of time. Before you start the project, add up your expected costs. Remember to include more minor items that can quickly increase the budget, such as permits, taxes and delivery costs. Look at comparable projects and use their prices as a guideline for yours.
Proper preparation will help you set a realistic budget, yet surprises can happen even during the most straightforward improvements. Plan for the unexpected by including a financial cushion in your budget. An extra 20% on top of the anticipated renovation cost should prepare you for any cost overruns.
6. Focusing on Appearance
When you focus on appearance, you may forget to plan for essential qualities like functionality or safety. High-value projects typically serve a function other than being purely cosmetic. While aesthetic appeal is a vital resale factor, items that look appealing on the surface may not be high-quality. Avoid lower-quality materials and objects — they will have shorter lifetimes and add little value to the property. 
Consider how you will live within the space when choosing new appliances and installations. What enhancements will improve your quality of life? What is the most functional design for the room? 
Existing doors, windows and outlet placements may affect your plans, so it would be best to factor them into the project sooner rather than later. The traffic patterns used throughout a space can significantly influence your new design, too. This concept is especially true of kitchens, where the design should facilitate efficient kitchen workflow between the sink, stove and refrigerator, or the "work triangle."
In addition to functionality, safety should be a top priority in the remodeling process. Make necessary repairs during the renovation to maximize your investment. If you neglect repairs and replacements, they may lead to severe damages or even counteract the improvements of your new renovation. Address the following areas during any remodeling project to ensure the space is safe:
Electrical systems.
Foundations and subflooring.
Pipes and water systems.
Other structural issues.
Before the renovation begins, plan what updates and fixes you'll need to make and take protective measures throughout the process. Products like painter's tape and protection films are a simple solution to safeguard your walls, carpets, floors, windows and furnishings during large products.
7. Sacrificing Quality for Lower Cost
Everyone enjoys saving money, but thrifty finds can only be as good as their usefulness allows. Consider the potential trade-offs before you cut corners and buy low-cost materials. Inexpensive options usually have a reason for their low price — they may lead to costly repairs soon after the project's completion or need replacing more frequently. What started as an affordable solution quickly becomes a pile of additional expenses.
Pick the best products your budget allows. Do the research necessary to find high-caliber materials at prices that work for you. Low-cost items can be a good deal as long as their value matches that of higher-priced alternatives. Well-made materials tend to last longer and can even boost your property value.
Even small items like durable painter's tape will be worthy investments for the process, since they limit the time spent rectifying mistakes. You want to get the most out of the workday, and redoing tasks is an inefficient use of time and money. Well-made tools will decrease the risk of errors — ensuring a job done right the first time.
8. Purchasing Materials Too Early
Low prices are tempting, especially on materials you know are good quality. However, it is best to wait on these purchases until you know the exact items you need. First, take accurate measurements and plan a clear representation of the final look. Without knowing the precise sizes and styles required for the space, even items bought on sale can harm your budget rather than help you save.
You risk over-spending or under-purchasing materials when you shop without exact measurements. New appliances can cause serious problems if they are too large or too small for the area — leading to costly accommodations or replacements.
You want to avoid over-spending on your project for obvious reasons, though buying too few of a necessary item can be just as risky. For example, the flooring and carpeting you purchased may sell out by the time you realize you don't have enough material to complete the job. This scenario can lead you to buy an entirely different material or halt your progress until more product is available. Avoid having an unfinished, unsafe and unsightly area while you wait for replacement materials.
When starting any remodeling project, you should first set a budget, measure the space and finalize project plans with a contractor. Once you've performed these tasks, you can search for those deals and buy the quality materials you need.
9. Paying Too Much for Materials
Renovation costs can quickly get out of hand without a well-planned budget. Try to provide accurate estimates for every expense. Then, increase your estimate by about 20% to ensure you can cover any unexpected costs. Setting a reasonable budget is only the first step. You must remain within that budget while you make purchases and choose quality materials for the project. 
To avoid spending more money than anticipated, research and compare different providers for the various materials, items and tools you need. Find the most cost-effective options available to maintain balance for any high-end upgrades you wish to install. Remember, too many enhancements at once can quickly raise your expenses. Only opt for high-end upgrades that offer value.
Whether your renovation requires big-ticket appliances or small tools like tape, compare the prices and quality of different providers. TapeManBlue is a cost-effective provider of tape and protective films, offering everyday low prices for products like blue painter's tape and more. There are several benefits to buying bulk quantities of painter's tape and other products, too. Bulk options help renovation contractors and can cut down on total costs.
When buying flooring or carpet, you don't want to misestimate the number of materials. Order enough material to complete the project based on accurate measurements, plus an additional 20% — this should account for any defects or installation waste and avoid going over or under in your purchase.
10. Juggling Multiple Changes at Once
Renovating can be stressful. One project can have various obstacles that will need your attention. When you try to take on several renovation projects simultaneously, it is challenging to focus on each task. Tackling multiple changes at once may leave the space in prolonged disarray, increase expenses, cause frustration and leave you frazzled.
It's a home renovation best practice to concentrate on one project at a time. Focusing all your energy on a single project or area will keep your house and your budget in order.
11. Interviewing Too Few Contractors
As with researching various providers to find the best materials for the job, you want to get multiple quotes before choosing a contractor. Get written estimates from three or more different contractors and compare their quotes. Look for numbers that keep appearing, since these estimates are likely to be the project's actual cost.
If a quote is drastically lower than the other options, remember that the lowest price may not equate to the best performance. The contractor might offer such a low price because they:
Have made errors in the estimating or budgeting of the project.
Plan to cut corners and sacrifice quality for cost.
Keep costs hidden, adding them in after you've agreed to a contract.
Lack the skill or experience necessary for the project.
Do your research to know who you are hiring by checking references and asking for credentials. Ensure they hold the appropriate licenses and insurance to do the job. Reputable contractors may also belong to professional trade groups, offer a warranty and promote guaranteed work.
Inquire about their specific specializations, too. Contractors with an abundance of success on projects similar to yours may offer more beneficial budget and timeframe estimates. You want to interview the most promising candidates and determine who is the most reputable. Communication will be valuable throughout the entire renovation process, so you want a contractor you can work alongside.
Choose a contractor you can trust, and once you've made your selection, remember to get your agreement in writing.
12. Working Without a Permit
Unpermitted projects may not meet local building standards. When this happens, you might be subject to fines and a costly tear-out and redo of your entire project. Always work with a permit to protect your work and the property.
Your city government can inform you of the permits required for your remodel. Contractors should obtain these necessary permits and have them in hand before beginning work.
13. Setting Unrealistic Expectations
Even the smoothest renovation projects can be messy, noisy and inconvenient at times. Before taking on extensive renovations, it is best to understand the entire process from start to finish. You can better prepare for the job and the unexpected roadblocks it may bring.
Anticipate that your project may surpass your budget and timeframe. While many jobs go as planned, it is unrealistic to embark on a renovation without considering the potential for problems. Leave 20% extra in the budget for incidentals, and avoid scheduling vacations or large gatherings immediately after your project's target completion date. Projects may last several weeks longer than the original estimated timeframe — allow yourself peace of mind by planning for this extension.
Even if the project is DIY, professional guidance can be beneficial when setting an accurate budget and schedule. Consulting with trusted contractors can help you prepare for unexpected obstacles, catch issues you may have overlooked and limit the risk of mistakes or delays. They can also improve your plans' efficiency and functionality. If renovations become too complicated or dangerous, you will know who to turn to for help.
At the start of any renovation, research will be an essential step to ensure the best results. You can avoid many of these mistakes by doing your homework on contractors, materials and providers.
Start Your Research With Cost-Effective Tape From TapeManBlue
Avoid becoming a renovation gone wrong. TapeManBlue is here to ensure a job done right. 
We provide American-made products at everyday low prices. View our wide selection of surface protection products and industrial tapes, or invest in our high-quality blue painter's tape for your next renovation project today. Shop online now for affordable tape you can trust.
Shop Best Sellers Collection