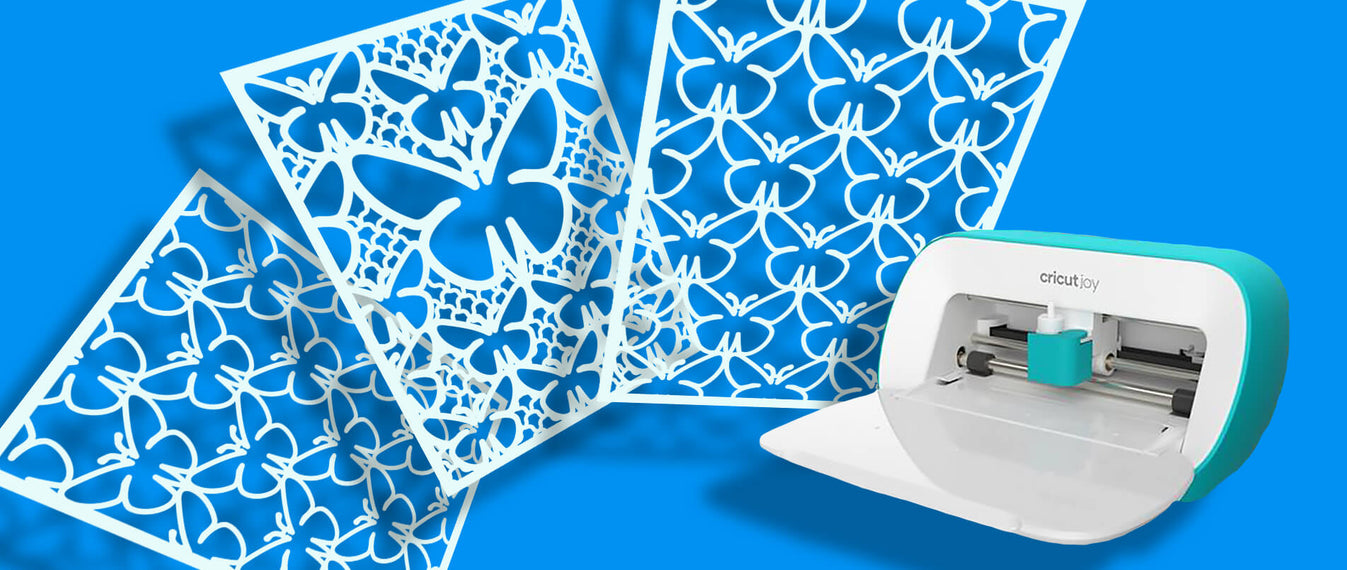 Cricut Materials Guide: What Can You Cut?
Cricut has a line of products designed for cutting intricate shapes into a variety of materials. The two most versatile machines are the Cricut Explore and the Cricut Maker. Combined, these devices can cut through hundreds of different materials, and you have few limits as to what you can cut. Here are some of the most common options for Cricut material cutting with each device.
What Materials Can a Cricut Cut?
The specific materials you can cut with a Cricut depend on the model. The everyday-use Cricut Joy cuts over 50 types of materials. The professional-grade model for serious crafters, the Cricut Maker, can cut more than 300 materials. Knowing the machine you have will make it easier to identify the materials you can work with. Note that all Cricut Explore Air models and the Maker machine cannot cut food products, including fondant.
What Materials Does a Cricut Explore Air Cut?
Cricut Explore Air series cutters have smart set dial settings that make adjusting the machine simple based on the material used. The Cricut smart materials settings include paper, vinyl, iron-on, light cardstock, cardstock, fabric and poster board.
Each setting represents a material category you can cut. You're not limited to only cutting paper, fabric and vinyl — in fact, the Cricut Explore Air series can cut over 100 types of materials. For machines in the Explore series, the thickest materials the devices can cut are 2 mm. The Cricut materials list for the Explore series includes the following:
Paper, including cardstock, poster board, glitter paper, photo paper, cardboard and sticker paper
Vinyl, including glitter, stencil, holographic, outdoor and chalkboard vinyl
Iron-on material
Fabric, including burlap, denim, silk, oilcloth, polyester and leather
What Materials Can a Cricut Explore Air 2 Cut?
The main difference between the Cricut Explore Air and the Explore Air 2 is the latter's ability to write and cut up to two times faster than the former. Otherwise, both have the same number of tools and materials they can cut. Anything that you can cut with the Cricut Explore Air, you can cut faster with the Explore Air 2.
What Materials Can a Cricut Maker Cut?
When it comes to using the Cricut Maker, you have more than 300 materials to choose from. For the Cricut Maker, the thickest material the device can cut is 2.4 mm thick, giving you a greater range of options to choose from.
Unlike the Explore Air series, the Maker cutter does not use the smart dial settings for determining the type of material to cut. Instead, the Maker model requires connection to the software on your computer or mobile device that it uses for programming. You then select the material you want to use from the program.
If you can't find the specific material or you don't know exactly what it is, the system also offers generic categories of materials, such as heavy fabric or light cardstock. When using these settings, verify that the Cricut Maker cut through the material properly. If not, make adjustments to the pressure used in the software by selecting more or less and cutting again.
Projects and Tips for Cutting Paper With a Cricut
Paper products are some of the first people think of as materials to use their Cricut machine for. You likely already know that all models of Cricut handle writing and cutting of multiple forms of paper, including the following and their thicknesses:
Cardstock: 0.27 mm
Pearl paper: 0.12 mm
Foil poster board: 0.29 mm
Printable magnet sheets: 0.28 mm
Printable sticker paper: 0.2 mm
With a vast array of paper products to cut with your Cricut machine, you have almost limitless crafting projects available. Get inspired with Cricut cutting projects that use these materials:
Cardstock: With this sturdy paper, you can cut can create your own greeting cards that put store-bought options to shame.
Pearl paper: Pearl paper has a luxurious pearlescent sheen, making it ideal for cutting out lettering to use on wedding invitations or for creating paper crafts for similar events.
Foil poster board: Foil poster board can work just like cardstock to make gift tags, greeting cards, gift box decorations and more. The foil exterior adds extra shine to your projects. You can also use foil poster board to cut out letters to use on signs when you want to make an eye-catching notice.
Magnets: Printable magnet sheets let you create your own magnets by printing and cutting designs. Put your creations on your refrigerator, filing cabinet, dry erase board or anywhere you have magnetic surfaces in your home.
Stickers: Who doesn't love stickers? The possibilities are endless with a Cricut machine, and you can print out and cut your own custom stickers for decorating. Decorate envelopes or cards, add personal touches to scrapbooks or use custom stickers for product packaging if you sell your creations.
Projects and Tips for Cutting Fabrics With a Cricut
Cutting fabric with the Cricut Explore requires some care. You should only use bonded materials in any of the Explore series machines. For example, if you cut polyester, felt wool, silk, oilcloth or denim, use a stabilizer to bond the material first. Bonding agents help hold the fabric in place and prevent it from stretching or moving during cutting. You'll find these products at your local craft or fabric store.
The materials used for the Cricut Maker do not require bonding, but you can put bonded material through this machine. Some types of fabric you can use with the Cricut and their thicknesses include:
Faux leather: 1 mm
Printable fabric: 0.37 mm
Plush foam: 2.15 mm, only in Cricut Maker
Distressed foam: 2.32 mm, only in Cricut Maker
You can cut just about any fabric that doesn't exceed the thickness limits of the Cricut Explore Air — 2.0 mm — orthe Cricut Maker – 2.4 mm. Grab your Cricut machine and some fabric to bring different project ideas to life:
Faux leather: Try cutting out pieces of this versatile material to make jewelry or keychains.
Printable fabric: Printable fabric makes an ideal craft addition to sewing projects. Choose any art you want to print onto the fabric and use the Cricut for cutting out intricate shapes. Sew the finished piece onto pillows, pillowcases, quilts or other fabrics.
Foam: Plush foam and distressed foam will only work in the Cricut Maker because of their thickness. These foam materials are sturdy enough for kids' and adults' crafts, such as games, jewelry or scrapbooking.
Because the Cricut Maker adapts well to cutting hundreds of materials, most fabrics will work with this machine. Use the Cricut Maker to get perfectly cut shapes and forms and expand your crafting options, saving on having to buy pre-cut craft fabric pieces from the hobby store.
Projects and Tips for Cutting Vinyl With a Cricut
One of the most popular materials to use with the Cricut is vinyl. With most vinyl, you will need transfer tape to move the cut design from the material to its destination. Follow these steps to use transfer tape:
Cut the vinyl using the Cricut.
Remove any extra portions from the cutting that you don't want.
Lay the design down onto the transfer tape.
Press down using a firm, flat tool, such as a credit card or a piece of a wooden dowel.
Remove the backing from the vinyl.
Lay the transfer tape onto your desired surface, starting in the middle of the design.
Press the transfer tape firmly from the middle outward to smooth any bubbles.
Use a credit card or dowel again to press out the design on the surface.
Peel off the transfer tape.
There are numerous projects you can create with the many vinyl options the Cricut can work with. Most Cricut machines will cut those vinyl varieties. The materials and the thicknesses of Cricut branded products are as follows:
Stencil vinyl: 0.2 mm
Permanent adhesive vinyl: Thickness depends on the surface of the vinyl
Chalkboard vinyl: 0.29 mm
Dry erase vinyl: 0.25 mm
Glitter vinyl: 0.23 mm
Removable adhesive regular vinyl: Thickness depends on the surface of the vinyl
Use those vinyl options to create a wide variety of projects. The different materials serve various purposes, like:
Stencil vinyl: Create shapes using this Cricut stencil material. Many consider vinyl to be the best material to make stencils with Cricut, especially if you select the type designed for this use. Stencil vinyl is also the best Cricut material for glass. Apply the vinyl with transfer tape and use etching cream in the stenciled portions to make a lasting design on the glass you can wash.
Permanent adhesive vinyl: Use permanent or premium outdoor vinyl on projects you want to last forever. This material works well in multiple applications, especially those that require extra durability. The best Cricut material for wood is permanent vinyl, which will hold better to the surface as you remove the transfer tape.
Chalkboard vinyl: This material has an erasable surface that lets you write on it with chalk and erase it. It works well for creating labels on things such as kitchen containers that may change their contents.
Dry erase vinyl: When you make projects with this material, note that it's not for use in the Cricut Explore series. You can use it in the Maker device. This vinyl is similar to chalkboard material because you can write on it and erase what you write. Like chalkboard vinyl, this material works well for labels on projects or containers.
Glitter vinyl: Add sparkling color to your projects with this material. Make fun and flashy items like ornaments or desk decorations. Be sure to get strong transfer tape when using glitter vinyl to ensure the tape holds firmly to the glitter-coated surface.
Removable vinyl: Use removable vinyl when you want a temporary design on a surface. For putting decals on tumblers for a party, removable vinyl works because you can take it off after the event before washing and reusing the tumblers.
Projects and Tips for Cutting Iron-On Vinyl With a Cricut
Iron-on vinyl differs from standard vinyl in its ability to use heat to transfer the design instead of transfer tape. To apply an iron-on, you press the design onto fabric with a warm iron. Remove the backing, and you have a customized creation.
Just like with vinyl, there are many different iron-on materials and designs to choose from. Some iron-on options are as follows, with their respective thicknesses:
Foil iron-on: 0.25 mm
Glitter iron-on: 0.5 mm
Neon iron-on: 0.22 mm
Printable iron-on: 0.013 mm
With those vinyl options, you can unleash your creativity and make various projects, following these tips:
Foil iron-on vinyl: Give any project a touch of shine with this material's metallic appearance. This type of iron-on needs caution when pressing onto the fabric. You must allow the backing to cool completely before you try to peel it off.
Glitter iron-on vinyl: Add the sparkle of glitter to tee-shirts, pillows and more. This material works best with larger shapes because pulling the unwanted portions of the cut design out before the application is more difficult due to the glittery surface.
Neon iron-on vinyl: Make any project pop with bright, unique colors. Use this material to apply colorful letters to fabric banners or signs, create projects for kids or show off your personality.
Printable iron-on vinyl: Cutting and applying a design simple with this vinyl. You can print directly onto the material, use the Cricut to cut the design and iron it onto your choice of fabric.
What Type of Material Should You Use for Your Project?
Your Cricut machine can write, cut and score more than 100 different materials. You can also use your Cricut machine's custom setting to cut and style a different material. Besides bonded fabric and poster board, most materials can be cut with a fine blade included with your Cricut machine. The most common materials for your Cricut project ideas are:
Paper
In addition to office paper, you can also use a Cricut for wrapping paper, tissue paper, crepe paper and more.
You can use paper to make:
Invitations
Wall decorations
Paper flowers
Cards
Decorative bags
You can also use your Cricut machine to write on envelopes to send with your invitations and cards.
Vinyl
You can use vinyl to make decals for:
Mugs

Walls

Car windows
Candleholders
Journals
You can use different colors of vinyl, including holographic and glitter vinyl, to take any ordinary object and add a design to it.
Iron-On Vinyl
Instead of stick-on vinyl, you can use iron-on vinyl to iron a pattern onto fabric, wood, paper or metal. You can use iron-on vinyl to decorate:
Baby onesies
T-shirts
Sweaters
Dresses
Towels
Light Cardstock
With paper slightly thicker than office paper, you can use light cardstock for:
Posters
Cake and cupcake toppers
Party decorations
Gift tags
Goodie bag tags

Cardstock
You can use thicker cardstock for office supplies and decorations like:
Bookmarks
Cards
Place cards
Invitations
Posters
Bonded Fabric
If you have a Cricut Maker, you can use it for fabric projects, like:
Quilts
Dolls and stuffed animals
Baby and kids clothes
Christmas stockings
Pillows and cushions
Poster Board
You can use poster board to make:
Gift boxes
School projects
Bulletin board lettering
Where to Buy Cricut Materials
Finding Cricut materials is simple. You can go online or look in craft stores. Plus, you don't have to use Cricut branded materials with the machine. As long as you don't exceed the values for the thickest material the Cricut Maker can cut, almost anything nonedible will work.
While the Explore series does not have as many material options, it can still cut most types of paper, vinyl, fabric and iron-on vinyl. If you want to save money and get cheap Cricut materials, look in craft stores for scrap material or samples at discounts.

Find Cricut Transfer Tape and More Online from TapeManBlue
If you're ready to create vinyl projects with your Cricut, get the transfer tape you need from TapeManBlue. Our durable products help you get your job done right. With clear transfer tape in a variety of sizes and tacks, you can complete just about any project with TapeManBlue.
Shop our transfer tape on our website or get it on Amazon. If you have questions about any of our products, let us know. We're happy to help you find the best tape for your crafting projects.
Shop TapeManBlue Transfer Tape
Shop on Amazon