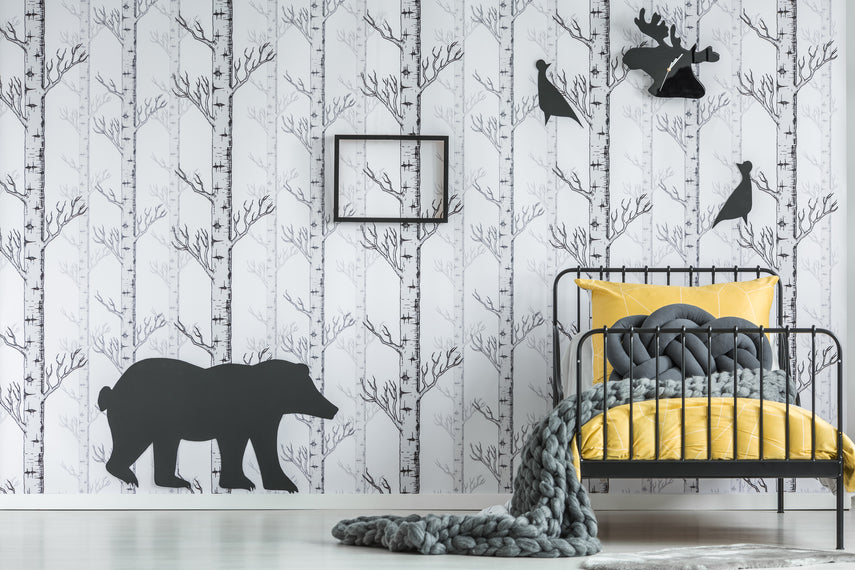 How Are Removable Wall Decals Made?
Removable wall decals are a non-permanent way to add a decorative design to a wall or promote a business. So, how did they get so popular? Since you can easily take them down or reposition them, removable wall murals and decals are useful for:
Residential Uses for Removable Wall Decals
Apartment residents who can't make permanent changes.
Anyone who likes to change their style often.
People who move often and want to take their wall decor with them.
Art lovers who don't want to add nail holes to their walls and prefer temporary wall art.
Anyone who wants to add architectural interest without the cost or construction.
Homeowners or renters looking for a simple refresh for their space.
Anyone decorating a space that isn't easily painted.
Parents decorating kids' rooms.
Commercial Uses for Removable Wall Decals
Restaurants looking to dress up their dining room space and create a unique atmosphere for guests.

Hotels and other businesses who want an eye-catching lobby or entryway.

Companies looking for a unique way to liven up a conference room. 

Retail stores interested in need of temporary advertisements or promotional materials.
What Materials Are Used for Removable Wall Decals?
The material used in your wall decals depends on the style you choose. Your temporary wall art options include:
Decals:

 

You'll often find removable wall decals made of PVC-vinyl or polyester. Decals often have separated components in their designs that require transfer tape to apply to a wall.
Wall stickers:

 

Depending on the manufacturer, you can find PVC-vinyl or polyester wall stickers. While the materials of wall stickers may be the same as decals, their application processes differ. Unlike decals, removable wall stickers use a peel-and-stick process that doesn't require transfer tape or paper.
Murals:

 

While removable wall murals may feature the same type of materials as decals or stickers, their larger size means you need a material that is easy to work with and won't wrinkle. Many designers use

printable adhesive canvas for its reliability, especially in large-scale products.

Wallpaper stickers:

 

To mimic traditional wallpaper, removable wallpaper stickers are made of paper. While they cover a large space like a mural, wallpaper stickers may come in more narrow options that, when put together, create patterns on the wall.
The complexity of the design may also determine what print media a manufacturer uses, with larger or more intricate creations requiring durable and reliable materials. There are also a variety of inks and other materials that create the images on a wall decal, including:
UV inks
Latex inks
Solvent inks
Eco-solvent inks
The type of ink you or a manufacturer can use in a wall decal depends on the material. While ink and other materials are essential for creating your design, the adhesive on removable wall decals is what makes the product work.
Quality removable wall decals and murals use adhesives that don't bond to the wall or contain growing agents. Other stickers and decals that aren't meant to be removed create a strong and often permanent bond with the wall that may become stronger over time due to growing agents. The adhesive on a removable wall decal has a lower tack that will stick to the wall but come off easily to leave no trace behind.
What Is the Process for Making a Removable Wall Decal?
So how are removable wall decals made? The process isn't too different from creating a permanent wall decal. The primary differences are in the materials used and aspects of the installation process. The various processes include:
Design
The first step you or a manufacturer must take to create a wall decal is making a design. Designers often start with a sketch or reference image, which you may need to do if you're going through the custom decal design process. Some manufacturers may be able to take a photo of your space and show a digital rendering of how the finished product will look, so you can make adjustments. A digital representation of your design can help you see the scale of the decal and whether the design suits your home or business.
During the design process, you may have to provide accurate measurements of the room or wall that the decal will attach to. Giving measurements will also ensure you don't need to cut excess material from your decal or mural once it's complete.
Printing
Once you approve a design, manufacturers have to print it. They'll choose the right material and ink to bring your creation to life, selecting something with removable adhesive. In the removable wall decal printing process, it's essential to use high-quality ink and other materials to create the best result. Removable decals must be durable enough to withstand application, removal and reapplication. 
If you're using a photo or other graphic, the image needs to be high quality, especially for large applications, which the manufacturer will ensure before printing. Depending on the design and material you choose, designers may also suggest a layered decal. The use of different colors and layers adds depth to your temporary wall art.
Installation
While applying a removable decal isn't as high stakes as applying a permanent option because you can always move and adjust it, you should still take care when installing. Follow these steps to install your new temporary wall art:
Choose a smooth surface:

 

Removable decals and murals adhere best to smooth walls rather than rough or textured walls.
Clean and dry the wall:

 

Any dust, dirt or debris can impact how well the decal sticks to the wall.
Flip over the decal:

 

Lay the decal face down when you're ready to begin installation and fold back the edge of the release liner.
Begin application:

 

Apply the exposed adhesive to the wall.
Remove the liner:

 

Gradually remove the liner and smooth the decal onto the wall, using a squeegee to smooth the material as you go to avoid bubbles or wrinkles.
Layered and complex decals may require the use of transfer tape for an accurate application. No matter the style of temporary wall art you choose, remember to be careful and have patience as you install the decal.
Removable Wall Decal FAQs
Some commonly asked questions about removable wall decals include:
How Long Do Removable Wall Murals and Decals Last?
With proper care and average conditions, a removable wall mural or decal can last for several years. If you prepare the wall by cleaning it properly and apply the decal correctly, you'll have a better chance of it lasting longer.
Do Removable Wall Decals Damage the Wall or Paint?
One fear that may deter you from using wall decals is whether the product will damage the wall when you remove it. If it is a quality removable product and you apply and remove it correctly, it shouldn't damage the wall or paint underneath it.
Can Removable Wall Decals Withstand Moisture?
Most removable wall decals can withstand moisture. Be sure to dry the wall completely in a humid room before you install wall decals for the best results.
How Do You Clean a Removable Wall Decal?
Luckily, it is possible to clean a removable wall decal. Simply wipe it with a damp rag to keep your decal looking clean. Try to use lint-free cleaning cloths to wipe and dry the decal to avoid leaving lint behind.
How Many Times Can You Move a Wall Decal?
Every time you move a removable wall decal, it will lose some of its tack. Try to move a wall decal as little as possible. When you do so, be sure your hands are clean, and avoid touching the adhesive or edges too much. Debris from your hands and the room can get on the adhesive and make it lose its tackiness. 
Use TapeManBlue Products for Sign-Making and Printing Projects
We are proud to provide high-quality tapes and films for sign-making and printing. Explore our transfer tape options for easy application of wall decals and signage. Our pallet tape is a great fit for screen printing. Contact us with any questions about choosing the right materials for your project.