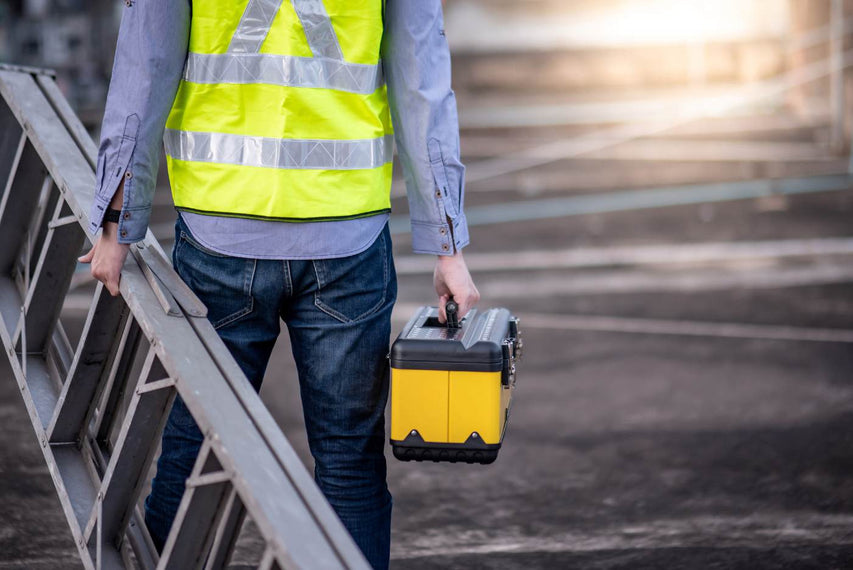 6 Items Every Contractor Needs to Keep in Their Toolbox
Success as a contractor takes a lot of preparation. It's up to you to be flexible and versatile, so you're ready to handle any client's request. Preparedness as a contractor means keeping a toolkit with everything you need for common jobs, plus a few tools useful in specific situations. 
Make a list of must-have items in a toolbox and the situations in which you'll need them. In this article, we'll look at some essential items contractors need in their toolbox. 
Essential Items for Every Contractor to Have in Their Toolbox
1. Personal Protective Equipment 
Of all the things every contractor should have, personal protective equipment (PPE) is at the top of the list. Every job can be dangerous, so carry the gear you need to protect yourself and the workers on your team from serious injuries and avoid violating OSHA PPE standards. These are some of the PPE essentials to keep with you: 
Safety glasses or goggles: Various tools project debris around a job site, which can get into your eyes. Getting substances like wood chippings, metal, wires and paint in your eyes can be a time-wasting annoyance at best and a long-term threat to your eyesight at worst. 
Helmets: Protective headwear is essential on the job site. A helmet can prevent serious injuries from items falling onto your head. They function as easy identifiers that make you visible to those driving cars or operating dangerous equipment. 
Gloves: Your hands are two of your greatest assets, and gloves can ensure they're ready for every job. Carry gloves in your toolkit strong enough to prevent abrasions and lacerations. Some gloves can even mitigate electrical hazards. 
2. Levels
Precision and accuracy are key when installing cabinets, brackets, doors, windows and other components that need to be straight. That's why levels are necessary for any toolkit. 
A level relies on gravity to tell you if the feature you are installing is straight. At the center of the level is a chamber containing liquid and an air bubble. The chamber features two parallel lines running perpendicular to the level. You can tell the level is parallel with the ground when the bubble stops between the two lines. 
Most levels work exactly the same, but they come in different sizes for different projects. A longer level might be useful when hanging things side by side because you can measure them both at once, even if they're a couple of feet apart. 
3. Classic Hand Tools 
Some tools will always stand the test of time. Hammers, screwdrivers and wrenches are some of them. You should have at least one hammer in your toolkit, though it may be helpful to have multiple. A lightweight hammer can be useful for smaller nails and softer walls, but you may need a heavier hammer for larger nails and dense walls. 
Other hand tools like screwdrivers and wrenches are useful because they can fit into tighter spaces than their power-tool replacements. Wise contractors have multiple screwdrivers — or at least one with interchangeable heads. Similarly, keep a full wrench set in your toolkit to handle nuts and bolts of any size. With that, also keep plenty of nails, screws, nuts and bolts of different sizes, shapes and lengths in your toolkit.
4. Nail Pullers
A reliable nail puller can be a significant time-saver for construction, deconstruction and reclamation projects. Pulling out nails with the opposite end of your hammer is inefficient and often difficult. Instead, use a nail puller for some extra grip and leverage. 
5. Tape Measure
The finest details are important for contractors, so you should always have a way to measure length, width and height accurately. Tape measures are great tools for measuring rooms, openings, materials, short distances and more. They are space-efficient and precise, making them easy for contractors to carry around and obtain accurate measurements. Find yourself a reliable tape measure long enough for most applications and has convenient features like belt clips so you can always keep track of it.
6. Tape 
Tape can be a contractor's best friend, and there are different types for different situations. Choosing the right tape for the job is important because the wrong decision could leave you with tough-to-remove residue or fail to provide the hold you need. The following are three of the most necessary types of tape to have in the toolkit:
Blue Painter's Tape
As the name suggests, blue painter's tape is used in painting projects to achieve a professional-looking finish. The most common use is to cover surfaces you don't want to get paint on. If you're painting a wall and its trim in two separate colors, cover the trim with blue painter's tape and vice versa to stop paint from getting onto the wrong surface. Blue painter's tape is also useful when painting fine lines or stripes. 
As for hold, blue painter's tape is a mid-level adhesive. It'll pull off any surface without leaving residue within 21 days of application. Blue painter's tape works for both indoor and outdoor jobs and sticks to windows, tile, glass, wood and more. 
Masking Tape
One of the best combinations of strength and flexibility, masking tape is thin enough to twist around odd shapes and edges while still providing a firm hold. Contractors can use masking tape as a simple solution when sealing boxes, taping protective tarps in place, labeling materials and even bundling supplies for transportation. Masking tape is easy to tear by hand and peels off without leaving residue, meaning it always does its job without causing extra work. 
Duct Tape 
All contractors know and love duct tape, and it earns its rapport. Duct tape is durable and features a strong adhesive, meaning it will stay in place as long as you need it to. It also stretches well for application around corners or rounded objects. 
Contractors can find multiple uses for duct tape on a job site. It can hold damaged equipment together until you make the necessary repairs, and it also provides a tight seal for pipes or ductwork. While duct tape is among the strongest options, it's still possible to tear by hand, making it a convenient and versatile tool for any contractor. 
Explore High-Quality Tape Products for Contractors
If you're building your toolkit before your next job, TapeManBlue has the products that'll hold it all together. Our painter's and industrial tapes provide the right amount of adhesion for various applications. Blue painter's tape, masking tape and duct tape are available in bulk cases with free shipping to ensure obtaining the tools you need is convenient and affordable. For more on our tapes, shop our online store today!