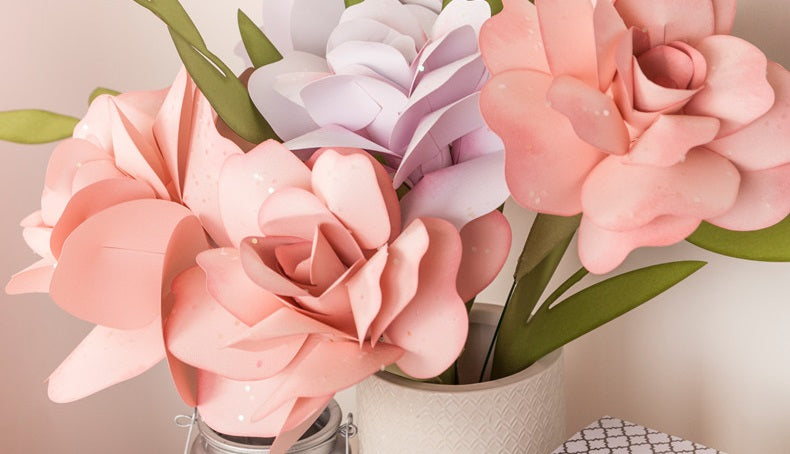 9 DIY Projects to Make With Your Cricut
With a DIY Cricut project, you can add personality to apparel or add some flair to your home decor. Cricut vinyl projects are incredibly versatile, and all you need is a Cricut cutter, a cutting mat, a roll of vinyl and transfer tape. 
There are a variety of beautiful and unique Cricut projects you can make from the comfort of your home, so check out our list for some inspiration and get to crafting.
Our Favorite Unique Cricut Projects
Looking for some Cricut project ideas? Here are some of our favorites. 
1. Apparel With Iron-On Vinyl 
One of the best Cricut projects is creating a custom t-shirt. This project requires vinyl, but instead of using tape transfers, you'll use heat transfer vinyl and iron the vinyl design onto your surface. After getting creative and printing out your Cricut design, follow these steps to create a one-of-a-kind t-shirt:
Remove the excess vinyl from around the edges of your design.
Set your iron to its "Cotton" or highest temperature setting.
Place your vinyl design on the t-shirt where you want it to transfer.
Put a cotton cloth on top of the shirt to reduce the chances of plastic melting onto it.
Roll the iron over the design for 30 seconds.
Flip the shirt over and glide the iron over the opposite side of the shirt.
In addition to t-shirts, this method will work with a variety of other items as well, including:
Denim jackets.
Jeans.
Sweatshirts and crewnecks. 
Baseball hats.
Aprons.
Stockings.
2. Tote Bags 
Tote bags are useful for everyday activities, but they don't need to be plain. Use your Cricut to create a one-of-a-kind vinyl design you can add to your tote bag. It's a great way to express your personal style. The process for this project is similar to using your Cricut to make a t-shirt or other apparel item. 
3. Wooden Decorations 
Cricut vinyl can stick well to wood as well, and wood decor throughout your home can be a perfect way to invoke a rustic feel. You can also get creative with this project and decorate pieces for your wedding or make some impressive DIY party favors. A few examples of wooden decorations you can make unique with your Cricut include:
Wooden coasters.
Signs for your laundry room or bathroom.
Garden posts.
Bedroom door signs. 
4. Cups or Mugs
Morning coffee is a must for many people, and you can make your daily tradition even more special with a personalized mug. Use vinyl to add:
Monogramming.
A photo of your pet.
Your favorite quote.
You can also decorate cups and tumblers. These make great gifts for friends or favors for a wedding party. We recommend hand washing any cups or mugs you decorate using your Cricut to limit the risk of any damage being done to the item in the dishwasher. If you have a water bottle you use every day, you can also transfer your designs onto your water bottle.
5. Christmas Ornaments
Christmas ornaments are perfect gifts for family and friends. You might also make a new ornament every year for your tree and start a new tradition with your family. Decorate your ornament with the year, or create a Christmas image like reindeer, Santa, snowmen or snowflakes. You can use glittery vinyl on your ornaments for some extra holiday sparkle. Using transfer tape can help ensure you get your image exactly where you want it on your ornament.
6. Organizational Bins
Take your organizational skills to the next level by creating custom personalized labels with your Cricut. You can use this DIY at home or in the workplace for labeling things like:
Filing cabinets.
Storage tubs.
Bins for towels.
Book bins. 
Organization makes your life so much easier, and labeling your bins with Cricut decals can make you feel even more put together.
7. Kitchen Items
Want to add a little extra flair to kitchen items? Using your Cricut, you can personalize your kitchen jars without breaking the bank. Create labels for your flour and sugar jars or design smaller labels for your spice rack. Pick your favorite font and coordinate the items throughout your kitchen. You can even use symbols instead of words.
8. Wall Decals
Wall decals are a great way to decorate your space. Add an inspirational quote to your living room wall, or create an epic, unique design in your child's bedroom. You can also easily update your kids' bedroom decor based on whatever they're into at the moment. Some fun wall decal ideas include:
Superheroes.
Princesses.
Sports team logos.
Quotes.
The best thing about wall decals is that you can take them down, replace them or update them whenever you deem it necessary. Use transfer tape to adhere your decals to the wall. 
9. Laptop Cases
Decals are a very popular way to personalize your laptop case, and you can use your Cricut to make custom designs. This is especially ideal if you want a specific decal design but can't find it online — you can just make it yourself! Vinyl decals work well on smartphone cases and tablet cases too. 
General Practices for Using Vinyl and Transfer Tape
Not all vinyl Cricut projects will require you to use transfer tape. However, for the ones that do, you can follow this general process: 
After printing or cutting out your vinyl, use a weeding tool to get rid of background vinyl. 
Trim a piece of transfer tape to fit your design.
Stick the transfer tape onto your design.
Gently peel back the transfer tape.
Position the vinyl on the item you're decorating.
Put pressure on the vinyl to make sure it sticks.
Peel back the transfer tape, leaving behind only the design on the surface you're decorating.
Get Transfer Tape for Your Cricut Projects at TapeManBlue
There's no end to what projects you can do with a Cricut, and TapeManBlue's transfer tape is a great match for all your projects. At TapeManBlue, we offer free shipping, easy online ordering and products made in the U.S. Our transfer tape comes in a variety of sizes and materials and removes completely clean with no residue. Like all of the items we sell, our transfer tape is a product you can trust at a price you can be excited about. 
Get transfer tape that's sure to make your DIY Cricut projects successful and beautiful. Shop the TapeManBlue selection of transfer tape today!