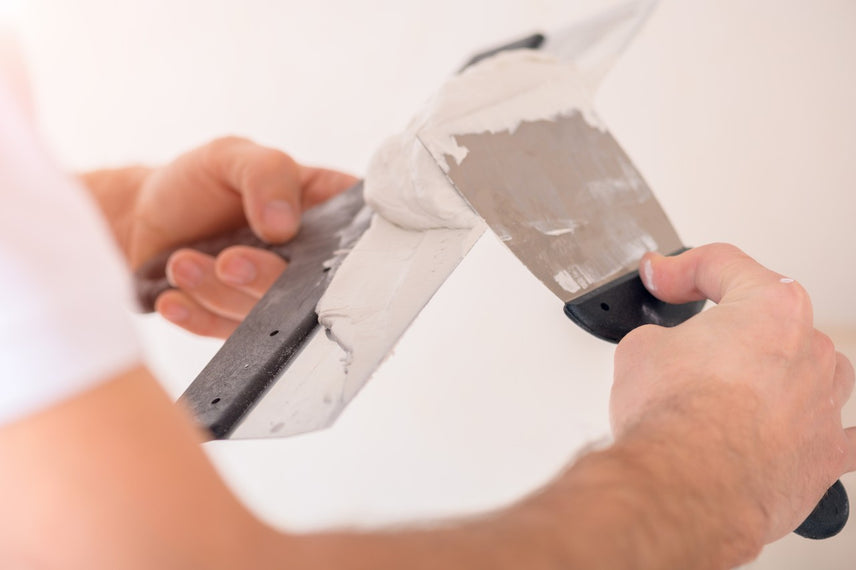 How to Paint Different Surfaces
Not all surfaces are alike. Different surfaces require different painting methods and different types of paint. One thing you'll always need no matter the surface you paint is painter's tape. Painter's tape protects the surfaces you don't want to paint, so your painted surfaces have straight and crisp lines. 
Tips for Painting Different Surfaces
Read the following tips to learn how to paint any surface.
Drywall
To paint a smooth surface like drywall, clean it with a microfiber cloth or a vacuum. Apply blue painter's tape around the edges of baseboards, casings and trims. You can use plastic to cover and protect your furniture, and you can use professional-grade drop cloths to protect your floor. Apply two to three coats of primer before rolling or spraying the surface.
Interior Wood
Various types of paint can be used on wooden surfaces, but each type will have a different effect. If you want to add some color and reduce the visibility of flaws in the wood, water-based paints like latex are the best option. If you want a smoother appearance, oil-based paints are a good option. 
Oil-based paints are also great for painting kitchen cabinets and other surfaces exposed to frequent moisture because they can prevent damage from moisture buildup. 
Prime unfinished or old wood before painting to help paint adhere to the wood. If the surface is already stained or painted, you will need to sand it down and wipe away the dust before applying primer and paint. Be sure to apply blue painter's tape before priming or painting.
When painting wood, you should brush in the direction of the wood grain and use smooth brushstrokes. Apply a couple coats of polyurethane after the paint dries to seal the painted surface.
Exterior Wood
If you plan to paint exterior wood surfaces, you will need to place drop cloths on the ground and cover doors and windows with heavy green painter's tape. Remove any loose paint from the surface to be painted by using a hook scraper. You can also use a putty knife on areas of uneven wood. Remove cracked caulking and sand any remaining paint so that the surface has a dull finish.
Once the wood surface is sanded, apply an oil-based or acrylic latex primer. After you apply the first coat of primer, you will be able to see nail heads, cracks and other imperfections. To fill these areas, you can use latex caulk and an exterior filler. Afterward, wipe the surface with a damp cloth to remove any dust and apply another coat of primer.
When painting exterior wood, start at the top and work your way down, so you can clear any drips along the way.
Metal
Before painting metal, use a stiff wire brush to clean the surface you wish to paint. This will remove any rust or flaking paint from the surface. Afterward, wipe it with a damp cloth and give it some time to dry. Once the surface is clean, use a metal primer to prime the surface, or you can use a paint that includes rust inhibitors. 
While painting a metal surface, you should apply many thin coats of paint. If you use spray paint, shake the can several times and hold the can approximately 10-12 inches from the surface while you spray. 
Brick
Before painting a brick surface, you need to use trisodium phosphate and a wire brush to loosen any grime and clean it thoroughly. Once the brick is completely clean, you can apply green painter's tape around the surface you wish to paint and apply a stain-blocking primer to hide any soot stains. The higher gloss that paint has, the more it will repel soot, so consider this when choosing paint.
Tile
To paint tile, you will first need to thoroughly clean it, especially the grout seams. Next, you will need to sand the tile surface so that it has a matte finish to hold paint better. For tile surfaces, you will need to use epoxy paint or tile paint. 
You can use blue painter's tape to protect surfaces around your tile and ensure that you have straight lines when you paint. 
Wallpaper
Before painting wallpaper, check for any loose seams or peeling edges. You can use wallpaper seam adhesive to repair any damaged areas of the wallpaper, or you can use a thin putty knife to cut loose pieces and then fill the spaces with spackle. This will leave you will a level surface to paint.
Once you have a smooth surface, protect baseboards, molding, wainscot and trim with blue painter's tape. Next, apply an oil-based primer and allow it to dry before you apply paint.
Paneling
Before you paint paneling, determine whether it is plastic or wood. Pry a section off of the baseboard and bend the piece of paneling. If it bends, it is photographic or plastic paneling. If it doesn't bend, it's wood. Plastic or photographic paneling will need to be painted rather than refinished, but wood can be painted or refinished.
Vinyl Siding
To paint vinyl or plastic surfaces, you need acrylic-based paint. Some brands of acrylic-based paint are labeled as "exterior paint" or "vinyl safe." Before painting vinyl siding, clean and prime the surface for best results.
For exterior surfaces, think about the color of paint you choose. Lighter-colored paint can prevent exterior surfaces from absorbing too much heat from the sun, preventing peeling and cracking from excessive sun exposure. 
The best time to paint vinyl siding is when the temperature outside is mild and humidity is low. Days with an overcast sky are best for this type of painting. 
Textured Surfaces
When you're learning how to paint rough surfaces, the type of painter's tape you use and the way that you use it matters. High-tack green painter's tape has a greater level of tack adhesion, so it works better on uneven surfaces. Textured surfaces include popcorn, stucco and shiplap. Be sure to use green painter's tape rather than stucco tape when painting a stucco surface. 
It can be difficult to paint straight lines on surfaces, especially when the surfaces are uneven. If you struggle to adhere painter's tape to a textured surface, you can use caulk to help. First, apply the tape to the surface you'll be painting. Next, apply a line of caulk along the edge and wipe most of it off by wiping in the direction of the tape seam. 
This will allow some of the caulk to go into the tape seam. After painting, be sure to remove the tape and the caulk before the paint dries, so it does not pull paint off of your painted surface.
Shop Now for High-Quality Painter's Tape
When learning how to paint different surfaces, it's essential to know what kind of painter's tape you need. TapeManBlue is here for you with tape you can trust. Browse our different types of painter's tape to find the perfect kind for your next project.
Shop Blue Painter's Tape
Shop Green Painter's Tape